Guyanese-born, Latchman "Marcus Anthony" Singh, moved to Trinidad six years ago to pursue his dream of becoming a fashion designer.
He conquered many hurdles along the way, relatives said, but Singh was focused on achieving his goal.
Singh was a member of the LGBTAQIA community and went by the drag persona, Maria Venus Raj.
Last month, Singh was found knifed to death at an apartment in El Dorado.
Police were called to the home at 6.30p.m, where Singh, 27, was found face down on the floor, clad in underwear and bra top.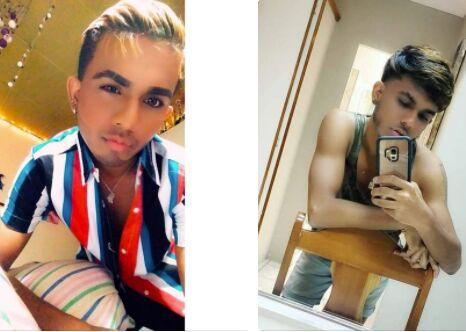 He had been stabbed in the back multiple times.
Assisted by the Caribbean Equality Project, Singh's body was returned to his home in Monrepose Village, East Coast Demerara, Guyana, last week for his final rites.
His body was draped in traditional East Indian kurta and turban and covered in multi coloured wreaths.
His mother and siblings wailed as his body was taken into the family home by his close friends to a Hindi song which translated, "You gave a direction to my life, by hugging and accepting me……Friend, I have accepted your friendship as God. The world will remember the friendship between you and me."
His friend, Ravi Latchman, said Singh was a breath of fresh air.
"We bonded over fact that we were both different and could not fit into this cruel and judgmental world. He was never ashamed of who he was. He was brave and embraced his difference with such pride and charisma," he said.
Latchman said that in Trinidad, Singh lived his life to the fullest as he worked hard to accomplish his desires.
He was free spirited, without fear of anyone's criticism, he said.
"Moving to Trinidad provided so many opportunities for Anthony to be himself and showcase his creativity. His bubbly persona coupled with his talent won over the hearts of so many persons in Trinidad especially those of the LGBTAQIA community," he said.
Singh was cremated at the Good Hope Crematorium in his homeland.
His friends in Trinidad have called for justice asking that the nation rally around Singh's family.
Sohan Badall wrote, "Anthony Singh deserves justice. We call came out and rallied and called for justice when Andrea and other young women were recently murdered. It has been weeks since Anthony was murdered in a brutal and undeserving manner…where are the protester, where is the call for justice, where all the talk show hosts and so called fighters for justice?"
Badall questioned whether the silence is a result of Singh being "gay".
"Is the hell raisers for justice saying it's ok to take the lives of gay young men? Are they saying the lives of gay young men doesn't matter," he said.
No suspects have been detained in connection with Singh's death.