A DEBE woman on her way to work at one of the nation's hospitals was struck and killed by a motorist shortly before sunrise on Monday.
Sadhna Ramcharan, 49, a custodian, of Boodoo Trace, was struck around 5.25 a.m. as she crossed the SS Erin Road to enter a maxi-taxi to take her to work at the San Fernando General Hospital.
A senior officer of the San Fernando Traffic Branch told Express that Ramcharan was pitched 120 feet from the point of impact and landed on the roadway.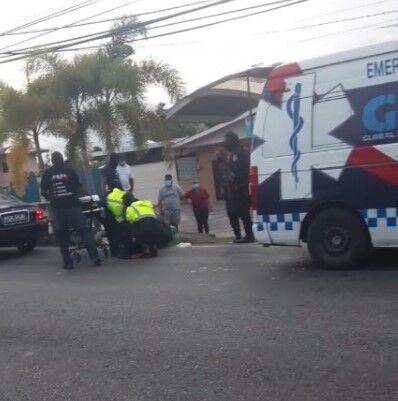 Her husband had parked nearby waiting for his wife enter the vehicle to take her to work.
Officers of the San Fernando Police and Debe Police Post responded and a 43-year-old man of Morne Diablo, Penal, who was driving the vehicle that struck Ramcharan, was questioned by police and released pending further inquiries. 
Police said the Toyota Yaris that he was driving was impounded as investigations continue into the crash.
Paramedics took Ramcharan to the SFGH where she was pronounced dead upon arrival.
Ramcharan's husband, Adesh Munilal, witnessed the collision that ended the life of his wife, with whom he had a relationship for 26 years.
Ramcharan's daughter, Christine Ganga, told Express in a telephone interview that on her mother's workdays he drove her to the SS Erin Road and wait until she took transportation to go to her workplace.
"Daddy was waiting in his car as she was going to cross the road to enter the maxi. The maxi driver put out his hand to stop the oncoming vehicles and she began to cross.
Out of nowhere this man came, bullet speed. He hit my mother, who is very tiny and pitched her in the air.
The driver kept going, and after a while he came back to the scene.
He told the police to tell us the family that he 'sorry'.
My dad witnessed the entire thing.
When he crossed the road and held onto her, another driver passed and nearly hit two of them", cried the daughter.
Ganga described her mother as "always happy, full of life and laughter".
She said her mother may have had a premonition about her death.
"A few days now she said that when she died we will miss her. And last night she told daddy that when she dies she wanted to be buried in the cemetery nearby.
She probably knew inside that something was going to happen", said Ganga.
Ganga said the family was told that Ramcharan suffered multiple head and upper body injuries and internal bleeding.
An autopsy is expected to be done this week to ascertain the cause of death.
Sgt Stoute of the San Fernando Traffic Branch is continuing investigations.