Rachel Logan endured a relationship with a jealous man for years.
The relationship ended on Friday when she was chopped to death in her home.
When the family of Logan, 45, stumbled upon her mutilated body, she had been dead for several hours.
The police were called in and officers found the suspect attempting to die by suicide behind the house.
Logan, a mother of four and grandmother of two, was covered in blood when found at her home at Quarry Settlement #1.
The murder suspect – a Jamaican national – was apprehended by police officers as he attempted to hang himself under a tree behind the house.
The officers arrested him and seized a bloody cutlass, believed to be the murder weapon.
Her killing shocked the family of Logan, who was involved in the 'on-again-off-again' relationship for about four years.
Police were called to Logan's house after her youngest child, ten, and another relative discovered the body around 10.30 a.m.
The child, who lived with his mother, stayed at the relative's house on Thursday night.
Logan's father, Francis Sinanan, said he believe his daughter and the suspect fought after he returned home from his job at the C-3 Shopping Centre, Corinth, where he worked as a security guard.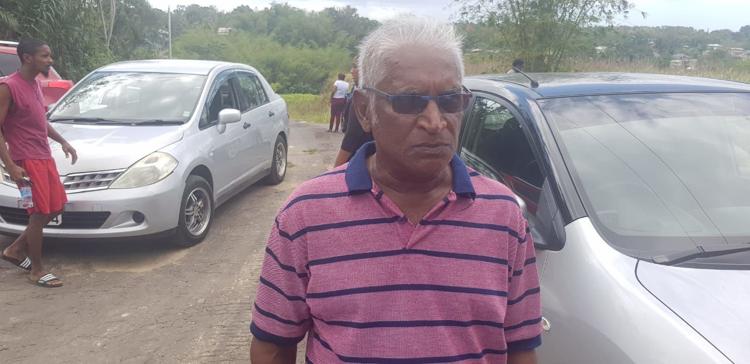 The father said the suspect appeared to be a quiet person who was not violent, but was prone to jealousy.
He said his daughter broke off the relationship several times over the last four years, but would always reunite with the suspect.
"He is a Jamaican and has nowhere to stay. He came and talked to me. I told him I can't tell you if to leave or to stay", said Francis Sinanan.
Logan forgave the suspect a month later, he returned to live with her.
She took him to church, Logan's father said.
"I wasn't expecting violence. She had left him last year, and for some good and heartfelt reason she took him back", said Francis Sinanan. "I understand that when he came home sometime during the night (Thursday) this incident happened. Her son came home this morning (Friday) and opened the door he found her. The man was hiding in the bush, but the police found him and the cutlass. I was home when I heard she got chopped. I didn't know if she was dead or alive. It took me about two or three minutes to reach here. I asked the police if I could go and see her. The police said she dead. There was jealousy when he saw her talking to people. They had a fight. When he saw the police coming he (suspect) went into the bamboo patch to hide".
"He is not a violent and quarrelsome person. He was nice to us. She had one son living with her and he (suspect) was nice to him.
Logan's sister, Michelle Sinanan, said the suspect was often jealous of her sister speaking or spending time with other people.
She had a message to women involved in violent and abusive relationships.
"I was in an abusive relationship and I stepped out of it. To all women you can walk out of it and start all of it", she said.
Francis Sinanan said that men should not try to juggle multiple relationships.
"If you cannot live with one woman, don't live with them. Some people eyes are long, they want to have two women and you cannot maintain two people during this hard time. If you have one wife stay with your one wife, Don't let your eyes deceive you", he said.
The suspect is being kept at the Siparia Police Station and will be interviewed by officers of Homicide Region III in connection with Logan's killing.