This assignment began with an attempted planass.
There's only one fuzzy photo of the event. It shows the cutlass man fighting off his lady friend so he could chase after this writer.
No other image exists.
That is because Express chief photographer Dexter Philip fled the scene at first sight of the blade.
The man who took us there, the "Prince of Moruga", Eric Lewis, didn't stick around either.
He moonwalked off the property that the cutlass man accused us of trespassing.
Lewis yawned in response to the shouted death threats, and dismissed the matter as a whole lot of nothing since no blood was shed.
He had brought us to this location in Gran Chemin, Moruga, to visit an abandoned cocoa plantation overseer's house on the Robinson Estate, part of the rich history of this area on Trinidad's south-east coast.
Lewis has almost single-handedly taken Moruga into the national spotlight as curator of the Moruga Museum. He is the man who acquired and restored an abandoned plantation into the National Cocoa and Chocolate Museum, who discovered several First Peoples settlements, tar pits and mud volcano sites and, most recently, the man (he is also a sculptor) who doggedly defended the erecting of a Christopher Columbus statue on the beach.
Museum collection
But what Lewis really wanted to show us that day was the collection of curious things which once belonged to Catherine Brizan, the birth name of the lady considered the most infamous obeah woman of all—"Mother Cornhusk".
Mother's personal items are on display at Eric's museum—photographs showing a small gaunt woman strumming a cuatro, tucked into bed, sharing time with family and children, and the statuettes of Christian saints and Hindu deities used in her obeah, the practice brought by the slaves from the Gold Coast of Africa as early as the 17th century, and still widely feared and practised to this day.
Mother Cornhusk's belongings are part of the museum's collection that tell much about the people and places in Moruga, bookended by the ghost village of Canary and the dead-end village at Marac.
He has Amerindian pottery, the vertebra of a whale, a chunk of telegraph cable that came ashore, the dugout of a Warao, even the shell of a World War II bomb forgotten by the Americans who set up fortifications along the cliffs to guard against the German U-boats in the '40s.
Mention Mother Cornhusk to people living outside of Moruga and they will conjure a Medusa-like figure sitting in the shadows, meeting with ill-intentioned clients or their emissaries by appointment only, and casting spells after the right amount of money, jewels and alcohol were delivered, along with the sacrificial fowl, cock or pig.
Revered and respected
But for the residents near where Brizan lived and ministered, she is revered and respected.
Brizan had no biological children, but was "Mother" to more than a dozen orphans. Born July 1916 in Grenada, she came to Trinidad as a child and settled with her family in the cocoa estates of Siparia. She would tell those closest to her that she was twice married, at age 12 and 14, both husbands dying young and leaving her a teenage widow. She would remain gaunt and child-like in stature her entire life, earning that nickname "Corn Husk".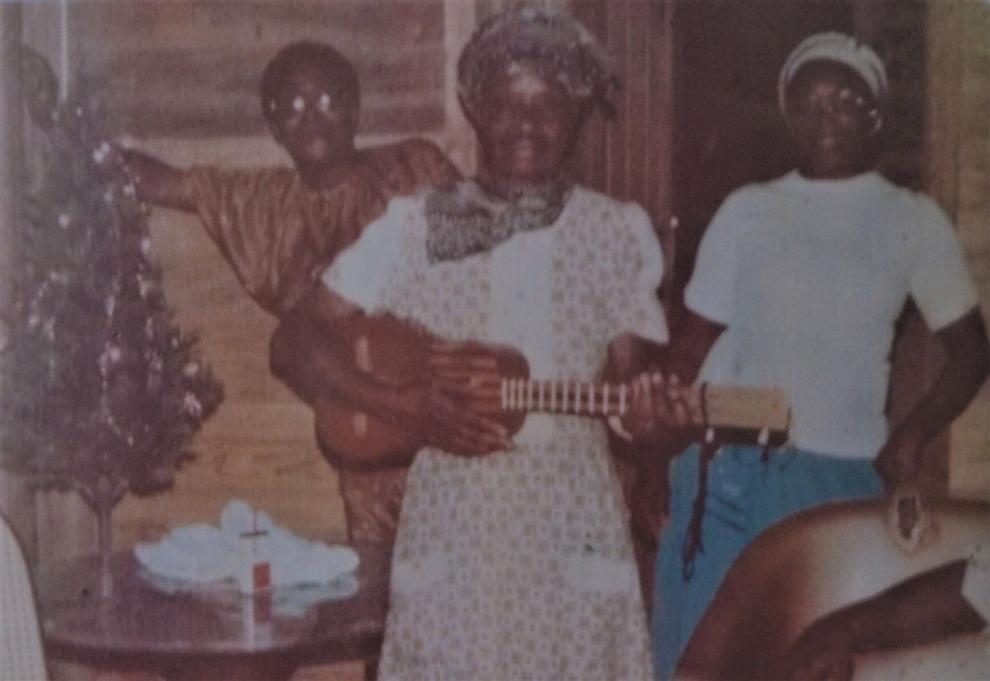 Village elders recall a troubled young woman who believed that in a dream, she was gifted the ability to heal by St Antho­ny—the patron saint of coffin-makers, grave-diggers, infertile women and pigs.
They remember her walking from Sipa­ria, through the Penal Rock Road, to get to Moruga where she got a spiritual/superna­tural education in part of Trinidad that was home of the famed Papa Neza (Samuel Ebeneza Elliot), a descendant of the Merikins (1901-1969), whose grave at Third Company Village is still avoided to this day.
Brizan settled in Dennis Trace, off Edwards Trace, Basse Terre, on a cocoa estate out of sight of the nearest electricity pole or neighbour.
And it is here that she received visitors in her "theatre"—a dark, earthen-floor chapel she named the St Anthony's Catholic Healing School, a place meant to awe the visitor (and which greatly annoyed the area's Roman Catholic priest who visited and failed to convince her that the name needed to be changed).
The clientele were desperate politicians and calypsonians, magistrates and judges, jilted lovers and the lonesome, criminal accused seeking to ensure a not-guilty verdict. But if you wanted a potion to harm someone, Brizan wanted no part of that, people who knew her said.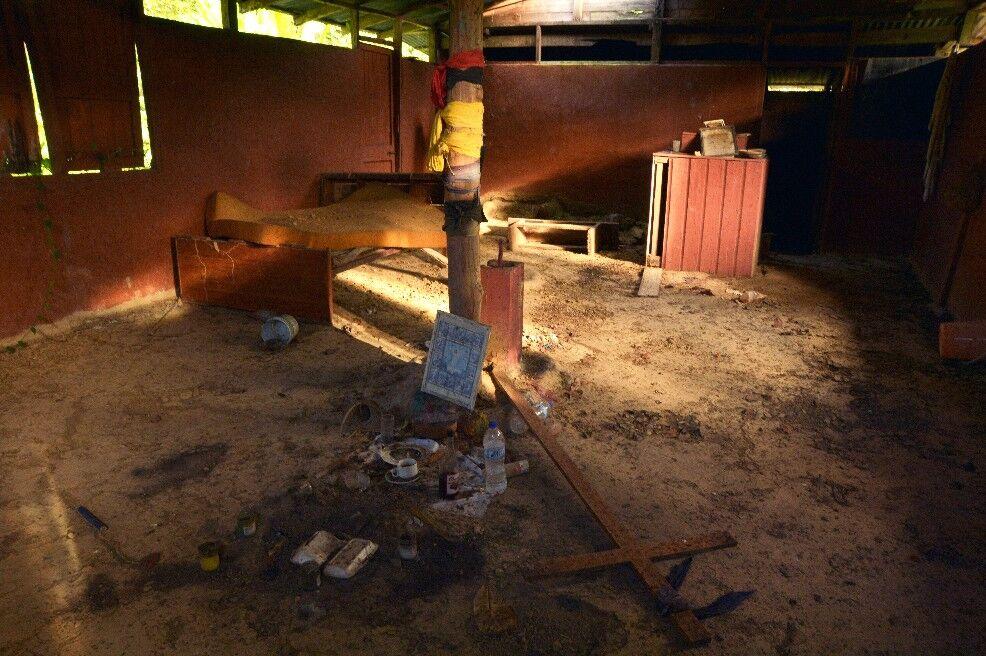 Instead, most of the people who ended up in this bleak place came desperately ill, having given up on conventional medicine.
And lives were saved here, the Express was told.
That so many positive results were re­por­ted by clients meant something had hap­pened, be it from the placebo effect or faith.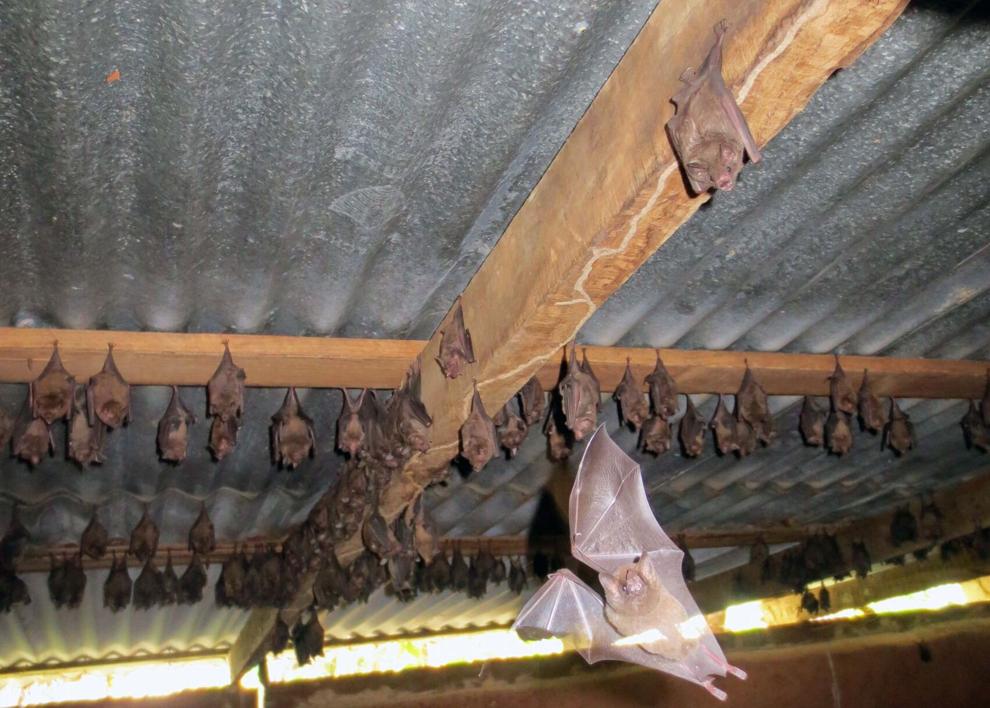 But many would also spend their last days in that church, or surrounding tents and vehicles, with neighbours recalling how often the hearse from the funeral home in Princes Town would visited Dennis Trace.
Brizan spent the final years of her life confined to bed, unable to walk, but continued to receive those in need of help, delivering bush bath and potion prescriptions from the bedroom of her wooden house, across the road from the "church".
She died at the age of 84 in April 2003.
All these years later, the "healing school" is still there, unvisited, waiting.
It now belongs to a colony of vampire bats.
But if you want to visit the location, do it during the day, with company, and an exit plan.
NOTE: Richard is the author of the Express series The HisTTory Project. He can be contacted at richard.charan@trinidadexpress.com