Mr Charlie is in a race with his Datsun 180-B station wagon.
He is 72 years old, and the wagon is about 43.
Both are old, creaky, underpowered, and sagging at the back.
But they refuse to quit, because the finish line would mean the scrapyard for one, and a cremation for the other.
Man and car have been under happy observation by the people of Princes Town since the 1980s.
That's when Mr Charlie—Charles Boodram Ramkissoon—became The Snow Cone Man, and his blue Datsun his iconic transport. Arm out the window ringing that brass bell, Mr Charlie says he has met hundreds of thousands of people.
You might think that's an exaggeration, but the man spent 29 years selling outside the Princes Town Junior and Senior Comprehensive Schools, and had specific times to pull up outside the St Stephen's Anglican, and Buen Intento Roman Catholic primary schools.
But it's the Princes Town Presbyterian School No 2 that was his favoured snow cone selling spot.
He attended that primary school until Standard Six, leaving at age 12 to become what so many of the time did—a sugarcane labourer, on an estate called Hope.
Love on the sidewalk
There was little choice then, he told us at his home off the Manahambre Road last week.
He had been born into a family of farmers on the Malgretoute estate, one of 13 siblings in a town where just about everyone was once connected to the sugar industry, as planter, harvester or factory worker.
But Mr Charlie's life would take a different course when he secured a job as a porter in 1964 at the Imperial Man Store at Lower High Street, San Fernando.
Here is where he worked for 15 years, promoted into the store as a sales clerk, outfitting fathers and grandfathers in those bell-bottom corduroys, shirt jacks, shoe lace ties and moccasins.
The store is also where he met his love. It was raining, she was sheltering outside under the eve with her pregnant sister. They were on their way to the hospital pre-natal clinic.
"I tried a young boy thing. And she stand there and listened. I get through," Mr Charlie said.
They married a month later. He was 24. Leena Albert-Ramkissoon was 19.
Mr Charlie said the snow cone idea was also born in that store.
Children treats
With his co-workers Tora Dass and Horlick Emrith, they purchased a second-hand ice crushing machine, and sold on the sidewalk on Saturday afternoons when the store closed for the day "as a sideline work".
Mr Charlie would use his father's Ford Cortina to drive them about, making some decent money until Imperial Man Shop closed down for good, and they all became jobless.
That was in 1979, and Mr Charlie went off on his own.
He knew the business model. And he knew how to make that addictive syrup, with condensed milk as a side.
So he got his own ice-crushing machine—second hand and still expensive at $1,200, and that $20,000 station wagon, paid for through a bank loan, for too many years to count.
And with his wife as his quality control officer, he perfected the taste.
The manufacturers of that Datsun 180-B would be impressed. The 1600cc, four forward manual clocked countless miles until the odometer broke, the bumpers rusted off, the lenses faded and cracked, but still it kept going, the original drive train still intact.
Mr Charlie has owned no other vehicle.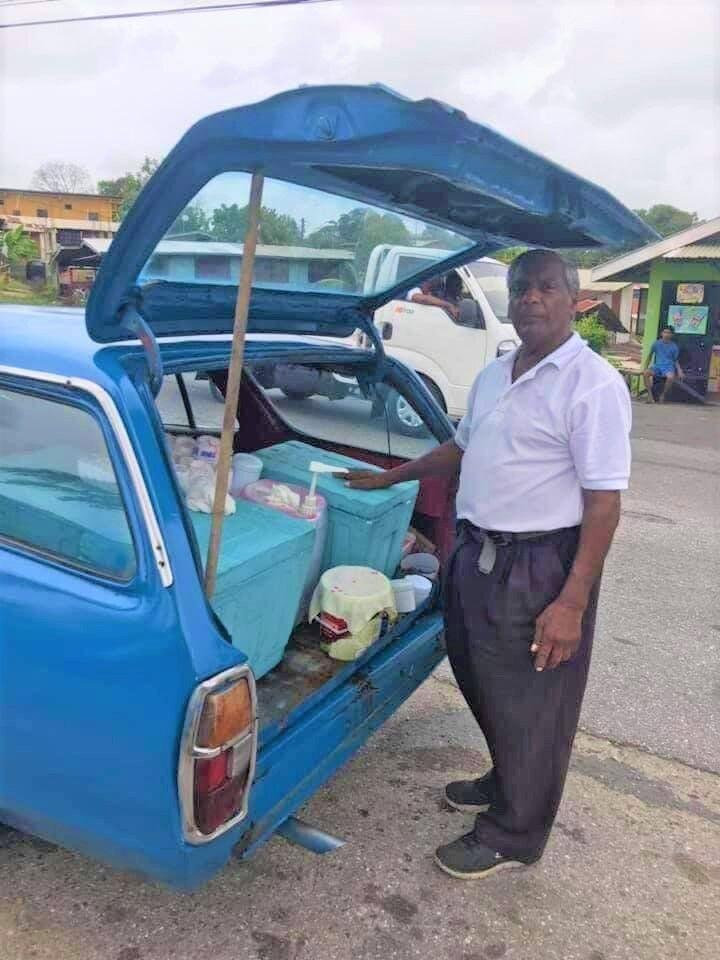 When he started off, the snow cone was sold for 50 cents, in flavours of cherry, cola, pineapple, guava.
"And I never turn away a child. If you didn't have enough, I would make something for you. And this is how I earned my name. The children I sold to in primary school and secondary school would have children of their own, and those children would buy from me too.
"I go from village to village. A good day, I would make $300, maybe $400. If things bad, maybe $200. It depends on the weather. Rainy days, not everybody wants something cold."
At the schools, the children would ask for the cavity special, the 50/50—which meant 50 cent worth of condensed milk, and 50 cent worth of syrupy ice.
Not a single day was easy.
"I earn that money, one snow cone at a time. Four dollars for a snow cone, five with condensed milk. From house, to house. Remember, I competing with the ice cream truck, the lolly carts, and those big supermarkets.
"And I see about all of my five children with this money, put all of them through school. Some of that money went to charity. I always had an envelope at home, ready to give.
"One child was still in school when my wife died 16 years ago, the Mother's Day weekend in May (from a stroke)."
Roaming therapist
Mr Charlie also ended up being something of a roaming counsellor/therapist, a gentle man who never once had a harsh word for child or adult.
A kind man, even as he grew older, and struggled sometimes to pull himself out of his seat to lift the tailgate, propping it with a mop handle, each time someone stopped him.
"You wouldn't believe how many people would tell me about their problems, relationships, what going on in their house. There is a lot of sadness out there. You never know," he said.
Mr Charlie must also hold this sad record.
"Anyone could take away what I have. But I never got rob, not in 40 years. I thank the Lord for that blessing."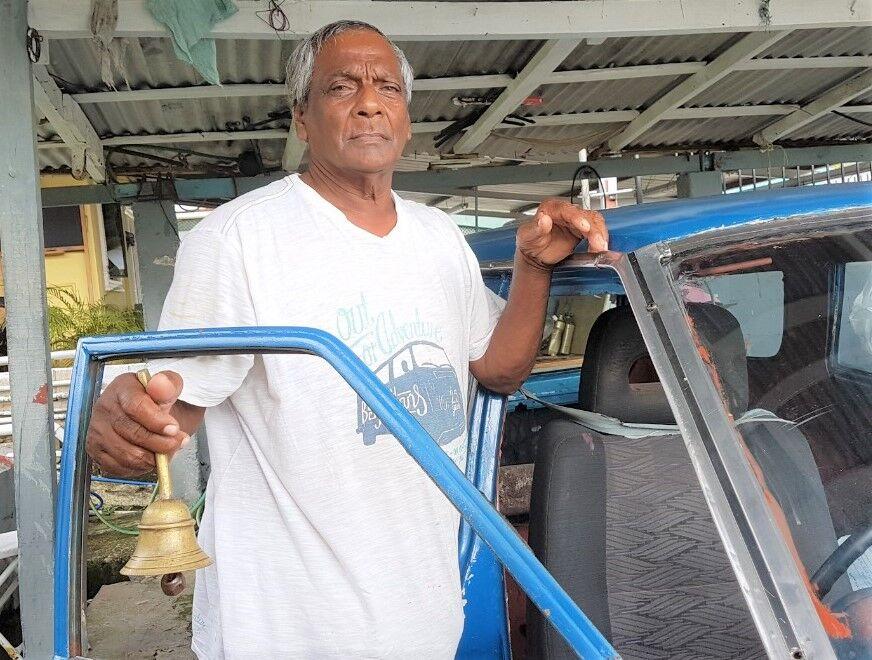 Snow Cone Man Charlie has finally taken a break. He tried working through the previous Covid regulations following the mask and sanitising protocols. But this latest one is keeping him home.
He is waiting for things to settle down.
Mr Charlie and the Datsun are not done yet.
Note: You can contact Richard at richard.charan@trinidadexpress.com