FIRE Health Minister Terrence Deyalsingh.
That's the call from former minister of education and member of Parliament Dr Tim Gopeesingh on Friday to Prime Minister Dr Keith Rowley following what he termed "this week's failed, chaotic and potentially deadly Covid-19 vaccine rollout."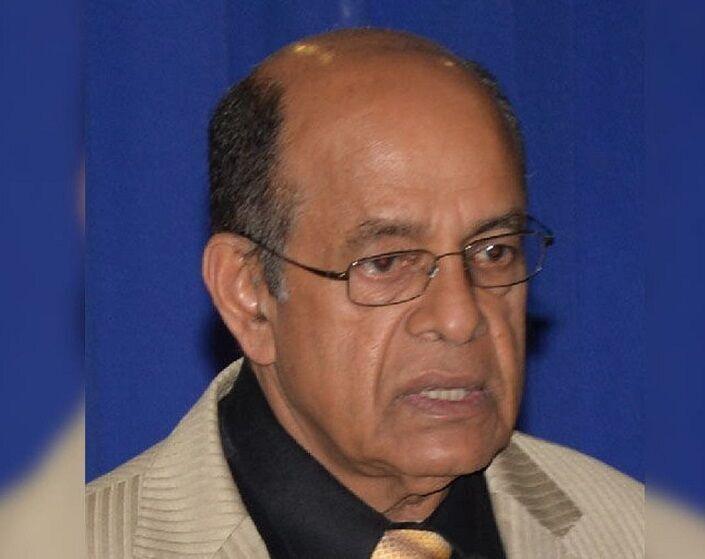 In a statement on Friday, Dr Gopeesingh said, "It is truly frightening to think of the likely increase in Covid-19 cases in the coming weeks over this disastrous farce.
Undoubtedly, this was clearly orchestrated by Minister Deyalsingh in a blatant attempt to hide the fact that the Government has, to date, failed to procure enough Covid-19 vaccines to sufficiently inoculate a dying, battered, traumatized and impoverished population." 
Dr Gopeesingh said that from the very outset of the pandemic in march 2020, Deyalsingh has consistently and incessantly lied to the population, and perhaps his own Cabinet and Prime Minister, over the Health Ministry's ability to effectively combat its devastating effects, which have cost citizens their health, safety and lives.
The former health minister said that these include when Deyalsingh claimed:
• The Health Ministry had made preparations from January 2020 to deal with pandemic, but by March 2020, they did not even have enough crucial PPEs for frontline health workers
• There were 900 beds in the parallel health system, when in fact there were less than 500
• The public hospitals would be doing Covid-19 testing by April 2020, but this never happened on time
• He could get up to 48-72 ventilators for the hospitals when to date, there are only 24 in the entire public health system
•Deyalsingh also notoriously prevented private hospitals from initially doing Covid-19 tests, only doing so after the UNC pressed for this. To date these private health institutions have done the bulk of Covid testing in Trinidad and Tobago—around 80,000, at a cost of around $80 million for private citizens." 
"The most egregious action by Deyalsingh, however, is his ongoing refusal and failure to deal with the serious allegations of deadly mismanagement of the Couva Hospital by NCRHA CEO, Davlin Thomas, an unqualified PNM political hack.
Thomas vindictively and spitefully transferred 16 senior doctors, who were at the forefront of the nation's Covid-19 response in April, 2021.
The public record plainly shows that there was an alarming, correlating increase Covid-19 related deaths from May-June 2021, where over 400 patients have died in this timeframe.
Yet Deyalsingh is still refusing to put the lives of citizens before politics, saying his duties during this deadly pandemic stops at the hospitals' doors!
How can a Minister of Health refuse to attend to crucial life and death issues in a major public hospital at this critical time?
Clearly, Deyalsingh is a clear and present danger to the citizenry of this country!", said Gopeesingh
"Further, there has been no information forthcoming as to the epidemiology of the loss of lives of over 600 citizens from Covid-19, in terms of where they have died—whether in the ambulances, at home, in the Covid-19 tents, or in the HDUs or ICUs at the hospitals.
There is also no evidence-based information as to the level of management at the ICUs and HDUs, to determine whether the lack of properly trained medical, nursing and paramedical staff is also a contributing factor to these record breaking Covid-19 death rates.
The Deyalsingh-led Health Ministry has also failed to adequately provide external healthcare for the approximately 900 Covid-19 positive patients who are currently at home and rapidly infecting their family members.
The Health Ministry is constrained to intervene in this dire situation, and provide direct medical supervision and assistance to these families. Presently, these patients are simply told to go to the hospital when they become very unwell, but by that time, it's sadly often too late.
This is compounded by the fact that the ambulance services are not working properly, so these patients are dying before reaching the hospitals for proper, lifesaving care.
Citizens cannot continue living under Deyalsingh's reign of medical terror!" 
Gopeesingh said, "The time has come for him to be fired immediately, for he is shamelessly refusing to do the honourable thing and resign.
Further, the NCRHA Board must also be fired due to its refusal to adequately deal with its failed, unqualified, dangerously inept NCRHA CEO Davlin Thomas.
Thomas, too, must be immediately sacked for his blundering, arrogant mismanagement, despite whatever political hold he clearly has on the Rowley Cabinet.
No sacred cow political appointee must ever be allowed to remain in office and destroy the lives of citizens at any time, but especially during the most deadly and destructive health crisis in our nation's history."