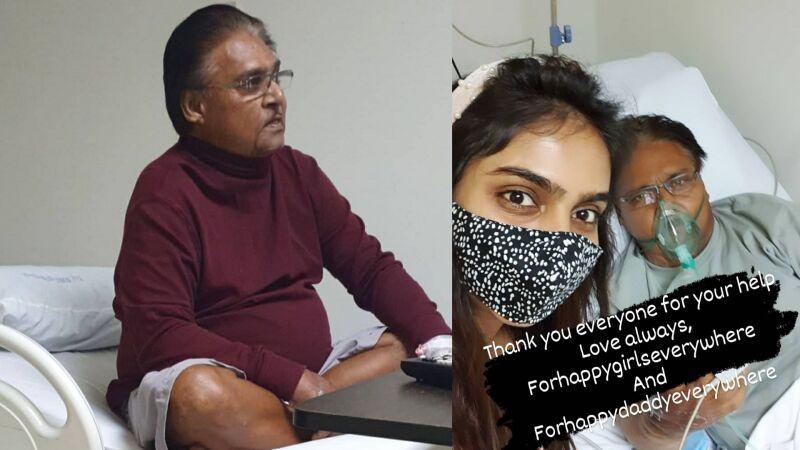 One month after suffering a massive heart attack in September, 56-year-old Naz Mohammed remains warded in the Intensive Care Unit of the St Clair's medical hospital, his life in the balance.
Daily, fluid is drained from his lungs to keep him alive, while his medical bills mount.
With 65 per cent of his heart severely damaged, Mohammed's family told the Express on Tuesday that he has endured a series of medical tests which has concluded that he needs triple bypass surgery and a pacemaker to survive.
Having been turned away by the public health system, the family is now asking for the aid of generous citizens in sourcing the $600,000 needed for his continued treatment, a number that continues to grow with each passing day.
According to daughter Chantal Mohammed, her father suffered a massive heart attack on September 10. Upon contacting emergency services, he was transported to the San Fernando General Hospital for treatment. The hospital enforced its COVID-19 policies which required all patients to be tested before receiving treatment.
He was placed in a waiting ward for five days without any drugs, examinations or consultations with resident doctors to await a negative result. Through pressure from the media, she said, a negative result was finally produced, after which doctors informed the family that private treatment should be sought.
"When you get a heart attack within the first few hours, treatment is crucial because without treatment in this space, the damage becomes permanent. My dad was in that ward for five days and created this monster. They didn't allow us to take him from the hospital without the covid-19 negative and they made us wait for the results. Even though we were willing to transfer him to get the immediate treatment he needed."
"We took him to Mount Hope and they told us there is a waiting list for bypass surgery that is months long. Unfortunately, sometimes the only way to move up on that list is if someone passes away. He was in urgent need and the doctors actually advised us to take him to a private facility because there was nothing else they could do. It really puzzles me because we are all tax paying citizens but in this circumstance, there was nothing they could do for us," she said.
Following his assessment at the St Clair's medical hospital, surgery was performed. However post-surgical complications later resulted in a second surgery being scheduled for the installation of a pacemaker. Despite a successful installation Chantal says her father still faces uncertainty as no improvement has been recorded on his condition.
The bill of Mohammed's treatment has reached over $600,000, a cost the family is unable to pay. With each week, Chantal said, the bill increases by approximately $100,000 with no news on if or when her father will be discharged.
This charge she said, does not include treatment from doctors at the facility who have decided to treat Mohammed without cost given his dire circumstance. Instead the large fee is comprised of the cost of his stay at the facility and the drugs necessary for his recuperation.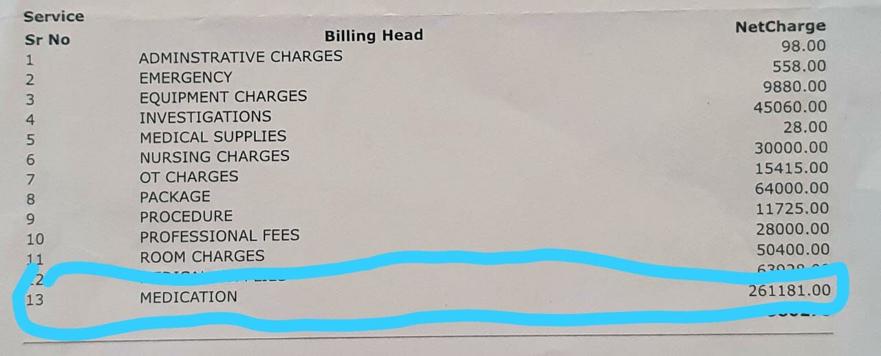 "Private healthcare is ridiculously expensive. Even if you have insurance, your insurance has caps. The cost of healthcare in this country is not regulated and people do not account for this. For families that have no option but to enter private facilities, there are no provisions that can keep us from going through this and the public healthcare system is so limited. So what are we to do? We don't have that kind of money lying around, no one has this kind of money. And even to ask for help in this pandemic when everyone has it tough."
"The doctors are doing everything they can given the fragile state he was brought to them in. His doctors also are not charging us for his treatment since they understand that the bill is getting out of control," she said.
The family has since been told that there are no payment plans in place, typically, fees are paid upon discharge.
A gofund.mett fund has since been set up by Chantal to gain the support of those willing to contribute.
"My dad has been through a lot in his lifetime, with this being his 16th surgery, as he was 65% burnt in an explosion which required multiple surgeries many years ago. Due to his fragile state, the total cost of his care has amounted to $637,000. He has been in ICU for 15 days and counting. We have exhausted all our finances and are in need of money to cover his care so that he can be returned to us after these past 6 weeks of challenges. Thank you for all the support thus far, it is greatly appreciated," she wrote.
Thus far, she said, over $75,000 has been raised. Only with the aid of those able to contribute, she said, can the entire bill be covered.
For those who can contribute, Chantal Mohammed can be reached at 721 6739 or through the gofundme initiative.