The Emergency Powers Regulations has been amended.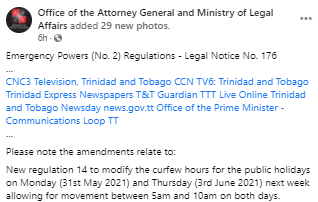 There will be a curfew on Monday (Indian Arrival Day) and Thursday Corpus Christi) allowing movement only between 5a.m. and 10a.m.
During that period, pharmacies will be allowed to open.
Funerals and weddings will be allowed during this time period, but limited to ten people.
Also during this 5a.m to 10a.m time period, religious organisations will be allowed to conduct religious services electronically in a gathering of no more than five people.
The amendments do not affect those identified as being "essential services". (SEE LEGAL NOTICE NO. 176 ATTACHED)

The regulations were disclosed overnight by the Ministry of the Attorney General.
The following places shall at all times remain closed to the public:
(a) a club as defined in section 2 of the Registration of Clubs Act;
(b) a dancehall or theatre licenced under the Theatres and Dancehalls Act;
(c) a theatre licensed under the Cinematograph Act;
(d) a common gaming house, betting pool or office licensed under the Gambling and Betting Act;
(e) spas, hairdressers, hair and beauty technicians and barbers; and
(f) a gym or fitness centre; and
(g) hardwares including electrical and plumbing establishments.
Restaurants shall remain closed and shall not supply or distribute prepared meals for sale to-
(a) supermarkets, groceries, markets, green grocers, bakeries, poultry depots;
(b) retail membership discount stores;
(c) wholesale stores for the provision of food, medicine or other necessities of life;
(d) pharmacies; or
(e) convenience marts attached to petroleum stations,
except where authorised by the Minister.