ASPIRING electrical engineer Shemar Bowman gave his mother a shock when she was told that he would be honoured by the Ministry of Education for his performance in the 2021 Secondary Entrance Assessment (SEA) examination.
Following his first attempt at the exam last year, Bowman was unable to move on to secondary school.
This year, he was selected by the ministry as one of the high-scoring pupils from a school with improved academic performance.
His mother Jennifer Bowman told the Express: "I thought it was a prank call… I didn't collect the results as yet when they called me."
The news was later confirmed and Bowman said she was ecstatic.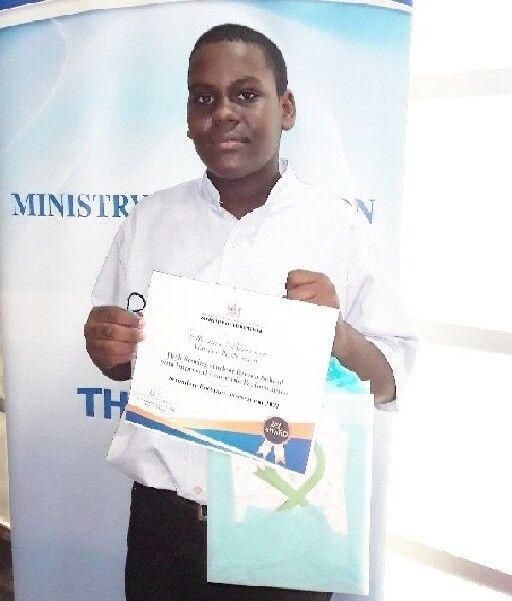 "That brought on the joy a little bit more."
Bowman said Shemar was devastated and disappointed last year when he was told that he had to re-sit the SEA exam. However, she believes that re-doing the exam worked in his favour as he did not have the company he kept in the past and was able to work harder and be more focused on his school work on his return to Waterloo Presbyterian School.
She was also in high praise of his teacher, Robert Jattan.
Shemar is now a pupil at Preysal Secondary School. Bowman said he was "over excited and over proud of himself".
He wants to become an electrical engineer and had shown signs of this from a young age, as he would often fix the remote controls of his toy cars.
Bowman added: "While waiting on his (SEA) results, he made a whole fan, I was so amazed. It was those small, little cooling fans that you put in appliances, he took it from the appliance and he hooked it up with some wire and a plug and it worked with current and it's still working. That was amazing to me, from my own child… I am over proud of him and I want to wish him all success and I wish him to be the person that God has set aside for him to be. God has his future in his hands and he isn't finished with him as yet."
Shemar's father, Brian Bowman, was also overly thrilled with his son's results.
"He did a lot of extra reading with his father. We realised the weak part was the reading and the spelling so his father was the one who actually sat down with him every day and made sure he read and read and read," Jennifer Bowman said.
Best foot forward
She helped him with his language arts and creative writing.
"He put in the extra work… Without God's help he couldn't have done it," said the member of RPJF (Righteousness Peace and Joy Fellowship) Ministries.
She added that Shemar and the family from Carapichaima received prayerful support and encouragement from members of the congregation. Shemar, 13, is the eldest of his parents' three children and Bowman said he is paving the way for them.
Waterloo Presbyterian School principal Michelle Dass told the Express that Shemar matured over the last year.
"He really put his best foot forward and did extremely well and we are very, very proud of him. He was very, very focused and he was very determined to succeed, it was a total transformation from last year."
Dass said that his performance will help motivate other pupils.
Shemar was recognised on September 9 at the Ministry of Education in Port of Spain during the ministry's function for the top pupils in the 2021 SEA exam.