BARATARIA MP Dr Fuad Khan has defended his comments at the weekend that local music was partly to blame for a culture of misogyny in Trinidad and Tobago, saying he did not single out soca music as the culprit.
Khan faced backlash yesterday for seemingly attacking local culture, and especially soca, which some viewed as having racist undertones.
The former health minister was commenting on the murders last week of three women, allegedly by men with whom they were once romantically linked, saying the lyrics of most local entertainers were denigrating to women and encouraged the viewing of women as objects.
He further accused local artistes of profiting from such work while failing to use their voices against domestic violence.
Khan said there were myriad psychological effects on women as well, many of whom were being compelled to conform to behaviour that was now viewed as the norm and was expected of them.
He called on local artistes to do better, saying on Saturday: "Sing something different. Grow up and stop degrading our women."
Contacted yesterday, Khan stood by his concerns and said he did not pick on soca but was referring to local music.
"Whether it's soca, chutney, dancehall...the lyrics are designed to denigrate a woman's body," Khan said.
Not only Carnival
Khan's comments stirred entertainer and producer Tony Chow Lin On (Chinese Laundry) to post in soca's defence on Facebook, calling on lovers of the genre to rise up.
The Express also took some flak for its front-page headline yesterday, "Blame Soca Music". "Steups...and this is a headline for front page ...so you sacrificing soca to sell papers??? Really?" Chow Lin On posted.
He said a "whole genre got blamed and singled out" and "our own at that".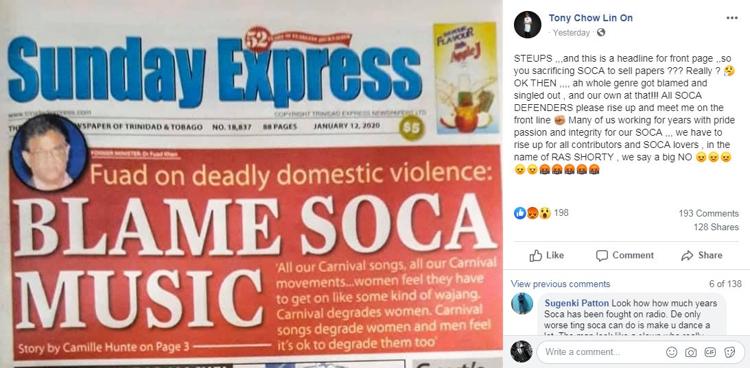 "All soca defenders please rise up and meet me on the front line. Many of us working for years with pride, passion and integrity for our soca...we have to rise up for all contributors and soca lovers, in the name of Ras Shorty, we say a big no...," said Chow Lin On, recalling one of the godfathers of soca, the late Ras Shorty I (Garfield Blackman).
Calypsonian Brother Resistance (Roy Lewis), also known as Lutalo Masimba and president of the Trinbago Unified Calypsonians Organisation (TUCO), also commented via Facebook: "Yuh ever hear dem attack rock and roll, R&B, dancehall, hip hop... Calypso still ha to defend itself 108 years since de first recording."
Carnival lovers were also not pleased, accusing Khan of repeatedly attacking the festival. Others said his comments were also racially insensitive and targeted a celebration and genre of music rooted in African heritage.