A 74 year old pensioner who has been stranded in Canada since March 2020 has threatened legal action against National Security Minister Stuart Young.
Her attorneys have argued that because of Young's "unlawful" decision to close all air and sea ports Radhikar Ramoutar has been "virtually exiled" from her home country.
They stated she has suffered tremendously and was even hospitalised in Canada because of high blood pressure.
Her pension in T&T has been discontinued as she is not able to present herself to prove she is alive.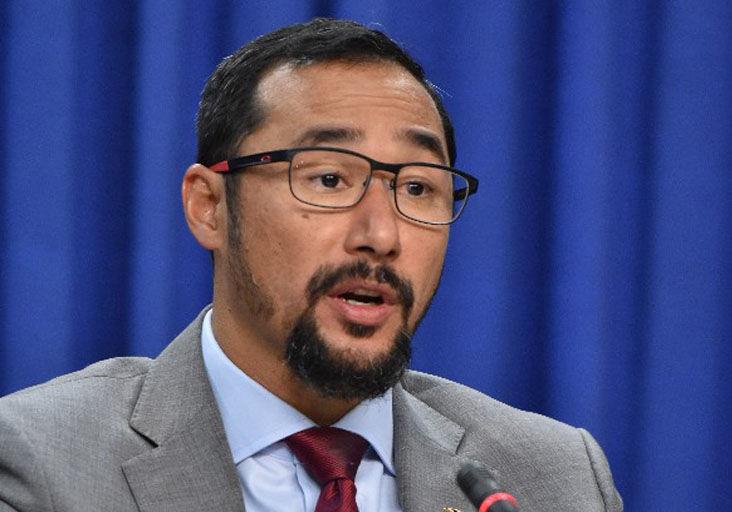 Attorney Rhea Khan of Fortis Chambers issued the legal letter dated January 18, 2021 to Young advising that she and attorneys Dinesh Rambally, Kiel Taklalsingh and Stefan Ramkissoon act on behalf of Ramoutar and intend to file Judicial Review Proceedings to declare his actions as arbitrary, unlawful and/or in breach of Ramoutar's constitutional rights.
The letter detailed the pain, suffering and anguish Ramoutar has endured having been locked out of her home land.
It stated that on February 21, 2020 Ramoutar visited Canada to console and assist her daughter, who lives in Canada, and whose husband had recently died.
The attorneys stated that Ramoutar planned to stay for two weeks and would have taken sufficient medication and finances to sustain her for that period only.
They argued that the unforeseen extension of her stay, precipitated
by Young's "unlawful actions" has now deprived her of the medical services which she enjoys and is entitled to at home in Trinidad and Tobago.
They stated that Ramoutar benefits from medical treatment and management for cardiac issues after the installation of her pacemaker.
It added that she was also receiving medical treatment arthritis and knee issues which were being effectively managed here in Trinidad and Tobago.
The attorneys stated that Ramoutar tried unsuccessful to seek help to tern home from the High Commission in Canada and airline.
They stated that on July 7, 2020 Ramoutar made her application for an exemption and her efforts have proven futile.
Having been unable to return home, her lawyers stated she has suffered hardship because Young's "unlawful conduct" and incurred medical expenses in Canada to the tune of some $7000, Canadian dollars ($TT39,900).
"On one occasion due to the stress and anguish of her situation, directly attributable to your unlawful decision, she underwent hospitalization because of dangerously elevated blood pressure. Further, due to her prolonged exposure to the cold weather in Canada, her arthritis condition has been exacerbated and she now suffers from crippling body pains," stated the letter.
"Our client lives in unbearable agony and is materially confined to a single room all day. She has become totally dependent on her daughter and other persons for her daily needs and basic necessities. To add insult to injury, her pension benefits in Trinidad and Tobago have been discontinued and/or suspended. Upon her son making enquiries of the National Insurance Board, she has been informed that she must present herself to the relevant office in order to show "proof of life" the letter added.
The attorneys stated that regulations- to close all air and sea ports is unconstitutional and also unlawful and/or ultra vires the Public Health Ordinance and the Immigration Act.
Attorneys stated that they accept that the Public Health Ordinance - Section 105 gives Young wide power to combat Covid-19.
However, they argued that the closure of Ports of Entry is not such a power.
They argued further that Young cannot lawfully use regulations, which is subsidiary legislation created by the executive, to amend, undermine or alter substantive benefits conferred to and/or enjoyed by Ramoutar and other citizens by primary legislation and/or the
Constitution.
Ramoutar's rights as enshrined in the Constitution and Immigration Act are being infringed her attorneys contended.
They stated Young has no statutory power and/or legal authority to create a regulation to close all Air and Sea Ports which prevents Ramoutar and other citizens from returning home.
They added further that the use of these regulations, without parliamentary scrutiny to limit the fundamental rights and freedoms of our society is "directly repugnant" to our society's constitutional norms and values.
"It is anathema to our identity as a sovereign democratic state and should the regulation not be expunged and the Air and Sea Ports be made accessible to our Client, we intend to file Judicial Review Proceedings to declare your actions as arbitrary, unlawful and/or in breach of her constitutional rights. We propose to further seek the appropriate relief thereby compelling you to act lawfully," the letter stated.
"Forthwith, you are hereby called upon to remove your arbitrary, illegal and unlawful policy regarding entry to citizens into their beloved homeland, Trinidad and Tobago. Please govern yourself accordingly." the letter added.
The attorneys requested that Young respond to the letter by 12 noon on January 22, 2021.