Dr Osafo Fraser, County Medical Officer of Health for St George East, said the procedure involved in a covid-19 positive case being placed under home isolation can be a simple and straightforward process.
Speaking at Wednesday's virtual COVID-19 daily update, Fraser said: "Once someone has been identified as positive and that result comes to the CMOH office, our team will get in contact with that individual to do the initial informing of the result, and then the contact tracing.
He said on average that process in terms of the initial conversation with the person, takes about 20 minutes but it can be longer depending on who the individual is and what the requirements are.
Fraser noted that once that aspect have been completed and the person's contacts have been identified, a list is created and the individuals on that list are then contacted and informed that they have been in contact with someone who tested positive for COVID-19.
"All the positive cases are then contacted twice daily by the medical team-in the morning and in the evening.
"That follow-up contact is designed to give the medical team an idea of how well the clients are doing. We have a very extensive checklist of symptoms that we go through. We ask them questions like, 'do you have any shortness of breath? Do you have difficulty breathing? Do you have any fever?
He said the checklist is designed to cover all of the symptoms someone may experience if they contract the virus.
"Clients who are consistently asymptomatic, we will continue to follow them. If for some reason a client develops serious symptoms and those symptoms include shortness of breath, consistent coughing, fever that is going up consistently… Those symptoms along with the fact that the client may have co-morbidities, will be used to give us an assessment of what to do with this particular client.
"That is not someone who we can just follow up at home with anymore, that individual may actually need to go into a hospital."
Home to hospital process
"The process to move the person from home to hospital involves a consultation with the patient and once we're unhappy with what is going on with the individual, we then make contact with the relevant institutions and we discuss the case with the consultants who are on-call at the time. A plan is then made to move the client from home to a hospital."
He said the client is kept abreast of what is going on at every stage while there's consultation between the team in the community and the team at the hospital.
"Once clients are asymptomatic for the entire period we will follow up with them every day, and once they remain that way we will then issue a time for them to be discharged.
"So, the process from beginning to end is a partnership between healthcare workers and the clients. And that partnership is built a lot on sacrifice, it's built on dedication, it's built on honesty and trust between both parties. And we try to do that consistently for the entire period."
He said clients who get ill between their morning call and their evening call are encouraged to call the number that has been making contact with them daily, and speak to the doctors or nurses that have been interacting with them.
"And if for some reason you can't get them, you should call 811, and that process has been working very well."
Pulse Oximeter
Fraser also demonstrated how to use a pulse oximeter, which measures a person's oxygen saturation and their pulse.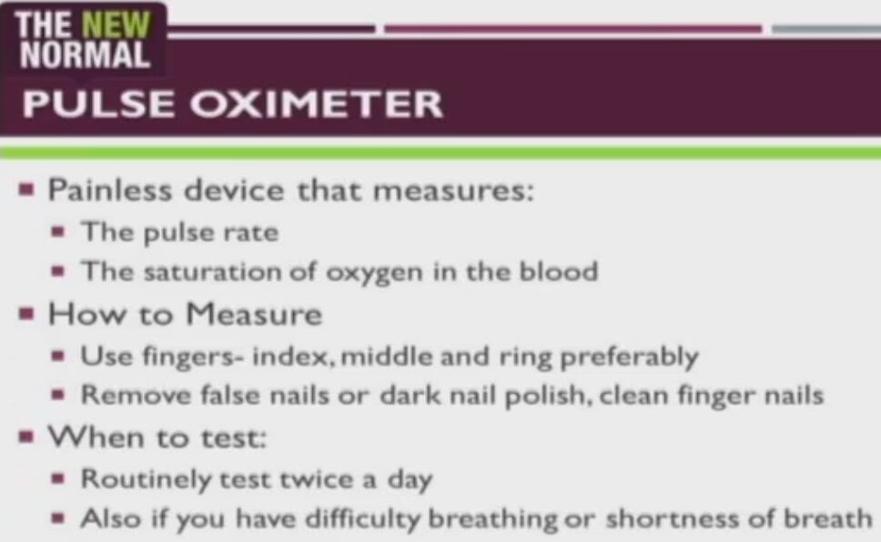 He said while almost any finger can be used, it is recommended that the index figure be use in testing as it gives a truer reading.
He noted that all false nails and dark nail polish should be removed before testing as that can interfere with the proper working of the machine, and advised that the finger should be cleaned before testing is carried out.
"We recommend testing twice a day or if for some reason you're having difficulty breathing or shortness of breath."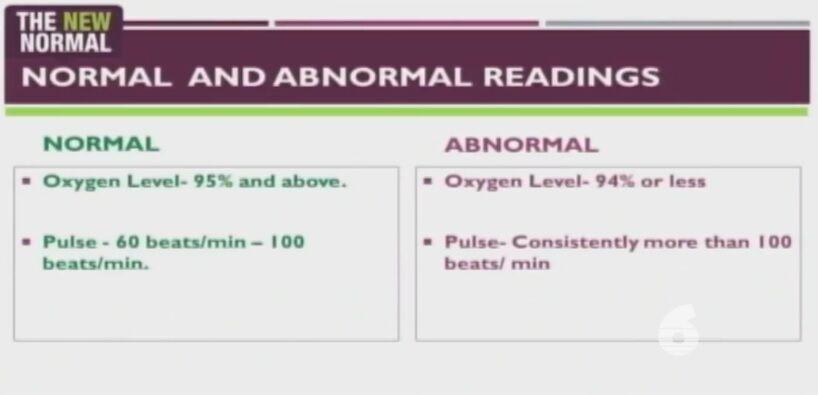 He said a normal reading consists of an oxygen saturation level of 95% and above and a pulse rate between 60 to 100 beats per minute, while an abnormal reading is one of a 94% or less oxygen level and a pulse that is consistently more than 100 beats per minute.
Fraser said if patients obtain abnormal readings they should contact the medical team that is monitoring their home isolation or failing that, they should call the ambulance service at 811 and report their symptoms and the result of the pulse oximeter test.