On the sands of Manzanilla Beach on Trinidad's East Coast, Spiritual Shouter Baptist believer Tameka Harris stood in the darkness before daybreak among the worshippers who had brought her there to be cleansed of her troubles.
There was a full moon and the tide was low that early morning in March.
The Government-imposed Covid-­19 restrictions at that time said beaches and coastal waters were open to the public from 6 a.m. to 6 p.m.
However, at 4.16 a.m., Tameka slipped away from the others, shed her clothing and walked into the sea where she died.
Her body would be found washed ashore after daybreak, and the police concluded she died by suicide.
But no one could say why she would do that. And Tameka left behind a 16-year-old daughter and countless unanswered questions.
The Express has been probing the circumstances around this wo­man's death. This is what we discovered.
Harris' last known address was Heliconia Crescent, La Horquetta. The Express visited the location and found Harris lived with her daughter in a small rented apartment behind a family's home.
The house belongs to Harris' friend who had rescued her two years ago.
The friend, Judy Madoo, told the Express: "We were friends, and two years ago when her mother died, she didn't have anywhere to go. I have a small room at the back of my house and I asked her if she wanted to come there to live. I could not see my friend like that and I could not allow her to go on the streets with her child. I did not know anything about her family and she never spoke about them."
Smiling face
Madoo said Harris was a good mother. She worked as a labourer at Arawak and appeared to be happy.
She said she knew Harris was a devout Christian, but she had no know­ledge of the church she atten­ded.
"She was normal to me. I would see her every day. She never spoke about her problems, always a smi­ling face. When she was at home, she would play church songs and sing loudly. She did that the day before she died," she recalled.
Her last memory of Harris was her doing chores at her apartment and playing hymns "real loud" while singing.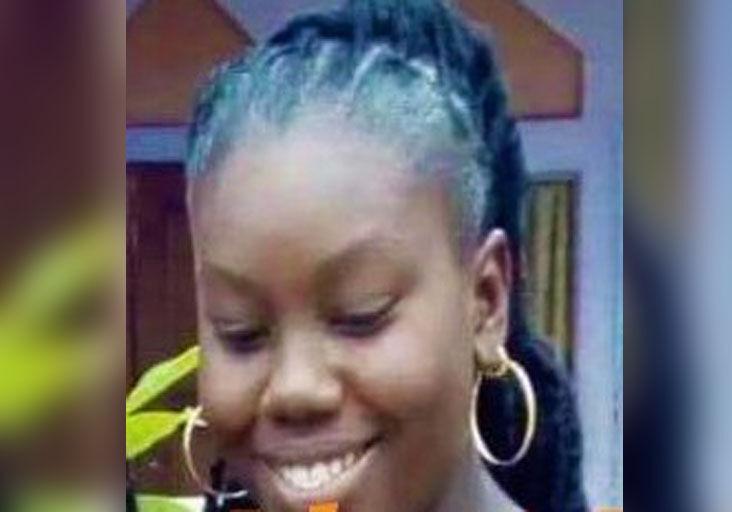 "I did not see her that morning because she left home at night. I cannot recall the exact time she left because I was in my bedroom, but I know someone came for her that night. I was unsure if the daughter had gone, too," she said.
Madoo said she was at her workplace when a relative passed by to show her a photograph posted to social media.
"It was a picture on Facebook of Tameka on the beach. She looked dead. I recognised her the moment I looked at the picture. I was shocked. I immediately thought about her daughter at home. I left work and went home," she said.
Madoo said people had already started gathering at her home, and the teenager was in tears.
"I didn't know these people because Tameka never spoke about her family. Then a woman identified herself as Tameka's sister and said she had come for the girl," she said.
Death by suicide?
The Express reached out to Harris' sister Nikisha Alcazar, who admitted she was not aware of her sister's troubles and she had turned to the church for help. The sister also discovered that Harris had been involved in a two-year relationship with a man.
Alcazar said she was not convinced that Harris would take her own life. Harris loved her daughter and worked hard to give her a good life, she said.
Following her sister's death, Alcazar found out that Harris had gone to the church that night with her male companion and daughter. She said Harris and four members of the church left the compound in a vehicle at 2 a.m.
"The daughter said she wanted to go, but they told her there was no space in the vehicle. So she and Tameka's boyfriend stayed behind. They stayed at a friend's house in the area," she was told.
Alcazar said her niece received a call at daybreak that her mother had drowned.
­"My niece was there when they identified her mother's body. She never recovered. Every day I have to spend time with her. I heard the story the church people gave, but I am not satisfied. I spoke to a doctor and he too found that the story was not adding up," she said.
The autopsy performed at the Forensic Science Centre in Federa­tion Park found that Harris died from drowning, but samples were taken for further testing.
Alcazar said police had classified her sister's death as suicide.
But Harris had no mental ailments, she said, and was focused on improving her life and giving her daughter a brighter future.
"Tameka would never do something like this...she was right in her mind. Death is something you can never come to terms with. No one contacted me when she died, no one from the church. We are ­leaving this in God's hands," the sister said.
Alcazar said Harris' daughter has not been sleeping and eating well since the incident. And she pleaded with the authorities for help.
"She too had many unanswered questions. She is not in a good state of mind. I am trying with her but she is constantly crying. I think she needs counselling but I don't know where to turn," she said.
Harris lived for her daughter
Harris and her four siblings were raised by their mother in La Horquetta. She was friendly and outgoing and full of life, the sister said.
But as they grew older, Alcazar said the siblings made their lives separate.
Harris became pregnant with her daughter at age 18 and not long after, the child's father went abroad.
"She raised that child on her own. Everything she did was for her daughter. Although we all went separate ways, I was still close to Tameka. The last time I spoke to her was on the Saturday before she died. She called to check me and we had planned to meet up soon," she said.
Alcazar said her sister grew up in a Christian home but she was never involved in the church. "I never knew she was so involved in the church. Yes, I knew she went to church but not to be involved like that," she said.
She questioned why the church would allow members to go to the beach when Covid-19 restrictions had been imposed.
"I don't know where they were planning to go. And I cannot understand why they went to the beach at that time because beaches were closed. The Prime Minister and the police had warned people to stay off the beach at night. These people who went there should be charged," she said.
Alcazar said she was now focused on caring for her teenage niece and raising her the way her mother would have wanted. "I have three small children and it is difficult for me but I have to do it," she said.
Police report
The Express obtained a police report that said Harris was in the company of members of the Faith Healing Spiritual Baptist Church on Manzanilla Beach, in the vicinity of the beach resort.
Harris insisted she take a bath in the sea. She pulled away from the group and ran towards the water, stripping away her clothing and ­going into the water, it added.
Police said the group lost sight of her and approximately half an hour later, she was found floating near the shore and brought to land.
A report was made to the Manzanilla police and a party of officers, led by Cpl Singh responded. The body was viewed and no marks of violence were observed.
District Medical Officer Dr Belgrave visited the scene and pronounced her dead, and ordered removal to the Forensic Science Cen­tre for a post-mortem examination.