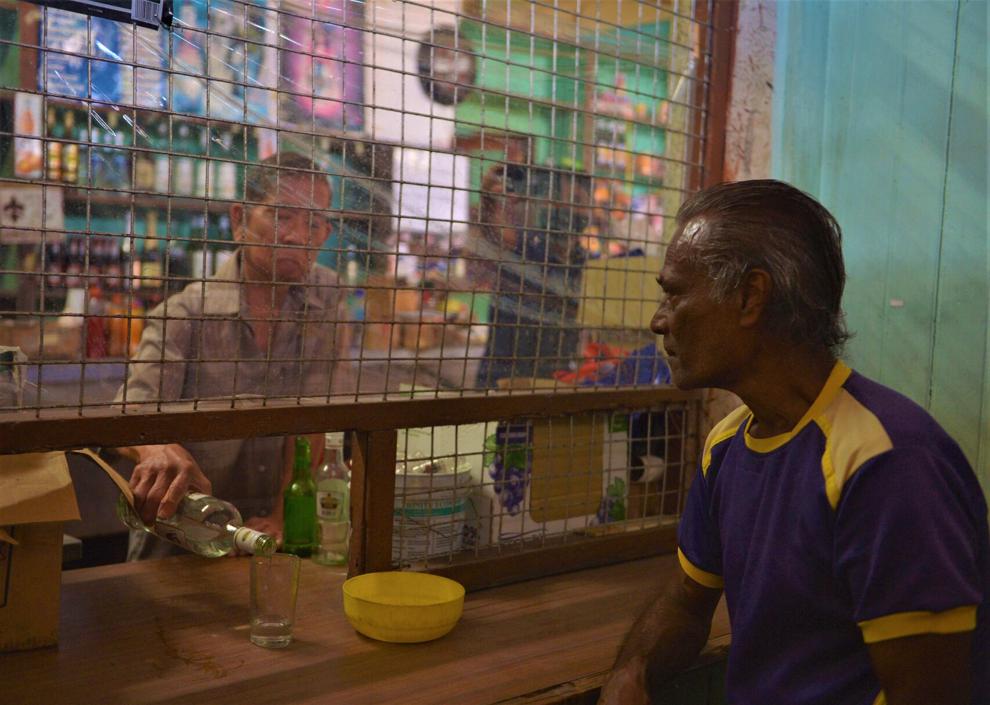 'Shannon' and his friend 'Creole' are loyal and patient men.
They will not drink their rum anywhere but from Mr Chong Ling's shop.
And they will sit on the culvert across the road till he opens on evenings.
Mr Chong Ling's shop is worth waiting for, because you can get a potent drink for less than the cost of a bottled water.
You can also get sugar and rice by the pound, cheese by the slice and credit, if you not a 'bad-pay' customer.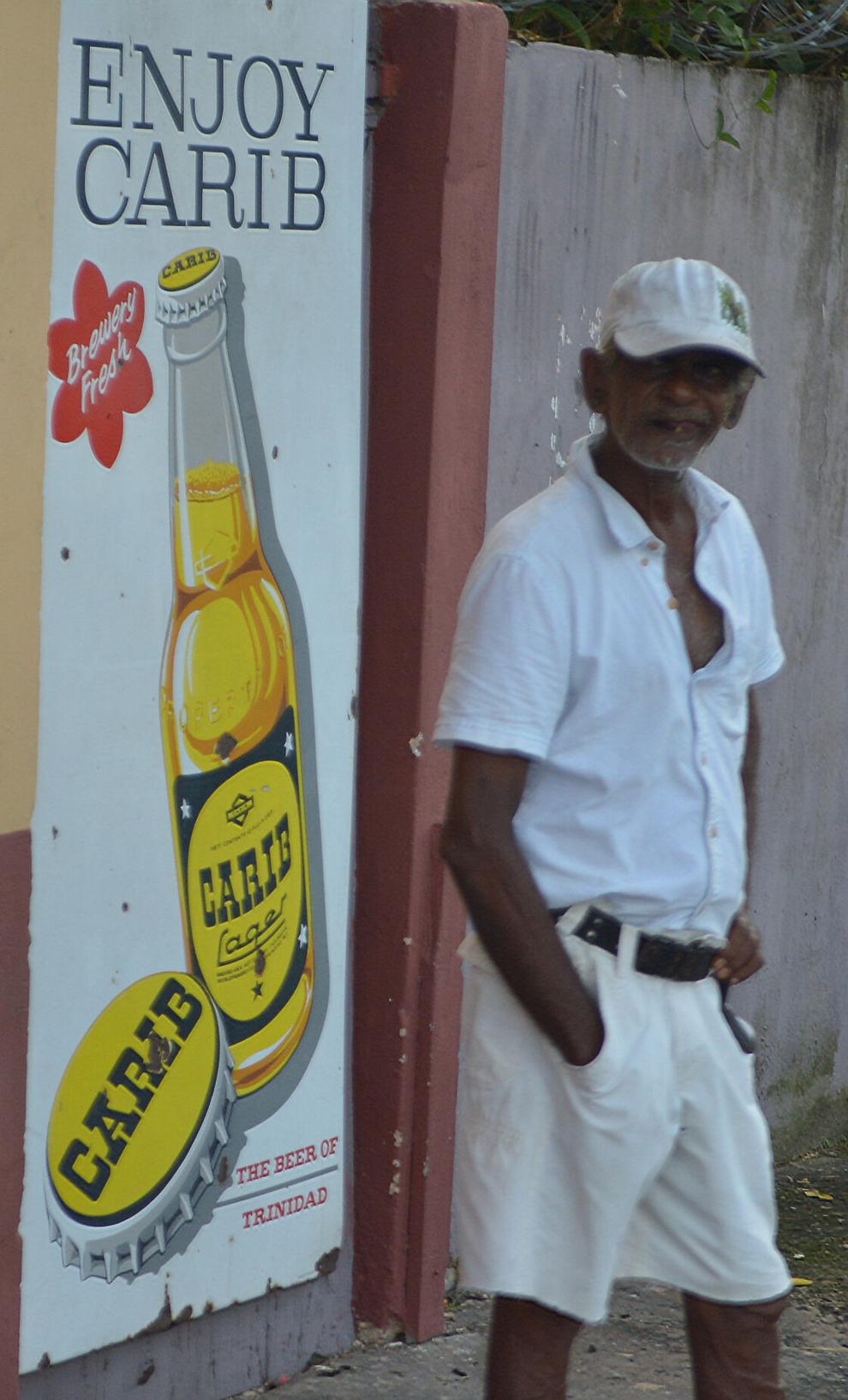 Shannon and Creole never made it on the 'bad-pay' list that businesses used to post on the door.
They are worthy sons of the former sugar cane village of Malgretoute (French for 'despite all odds'), near Princes Town.
Their parents and grandparents were customers at that shop, likely the oldest in Trinidad and Tobago.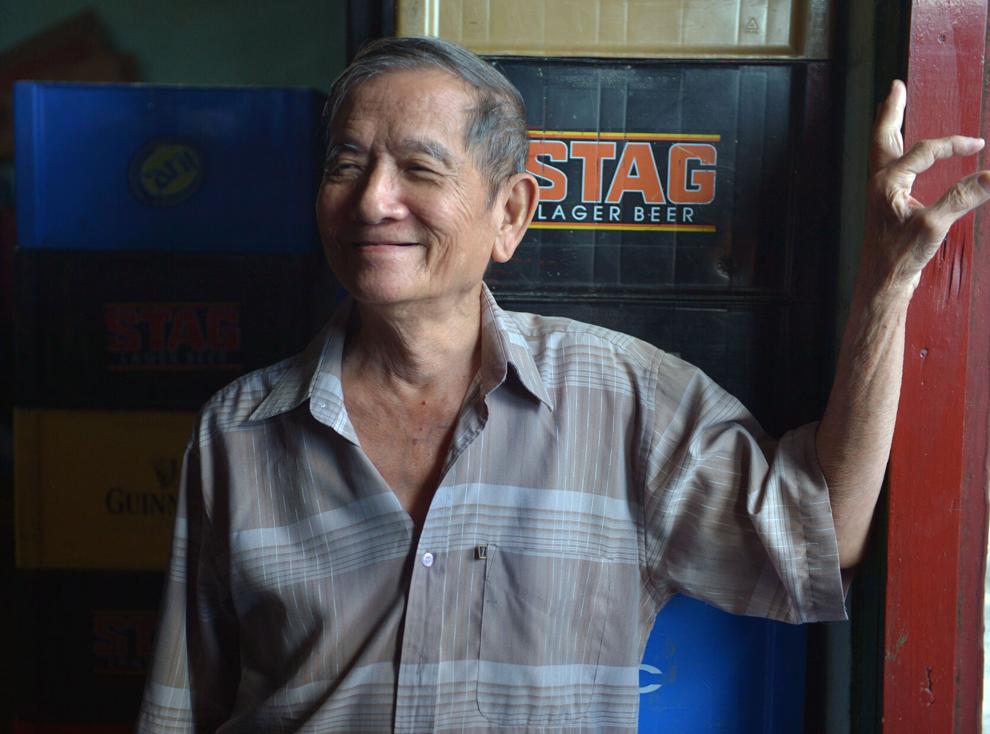 And at age 79, Wilfred Chong Ling has got to be one of the oldest shopkeepers.
It took us a while to get him to talk to us. He is a busy man, and there is a pot on the stove, so we better ask something "sensible", he said. We had to visit three times, before we found out some things.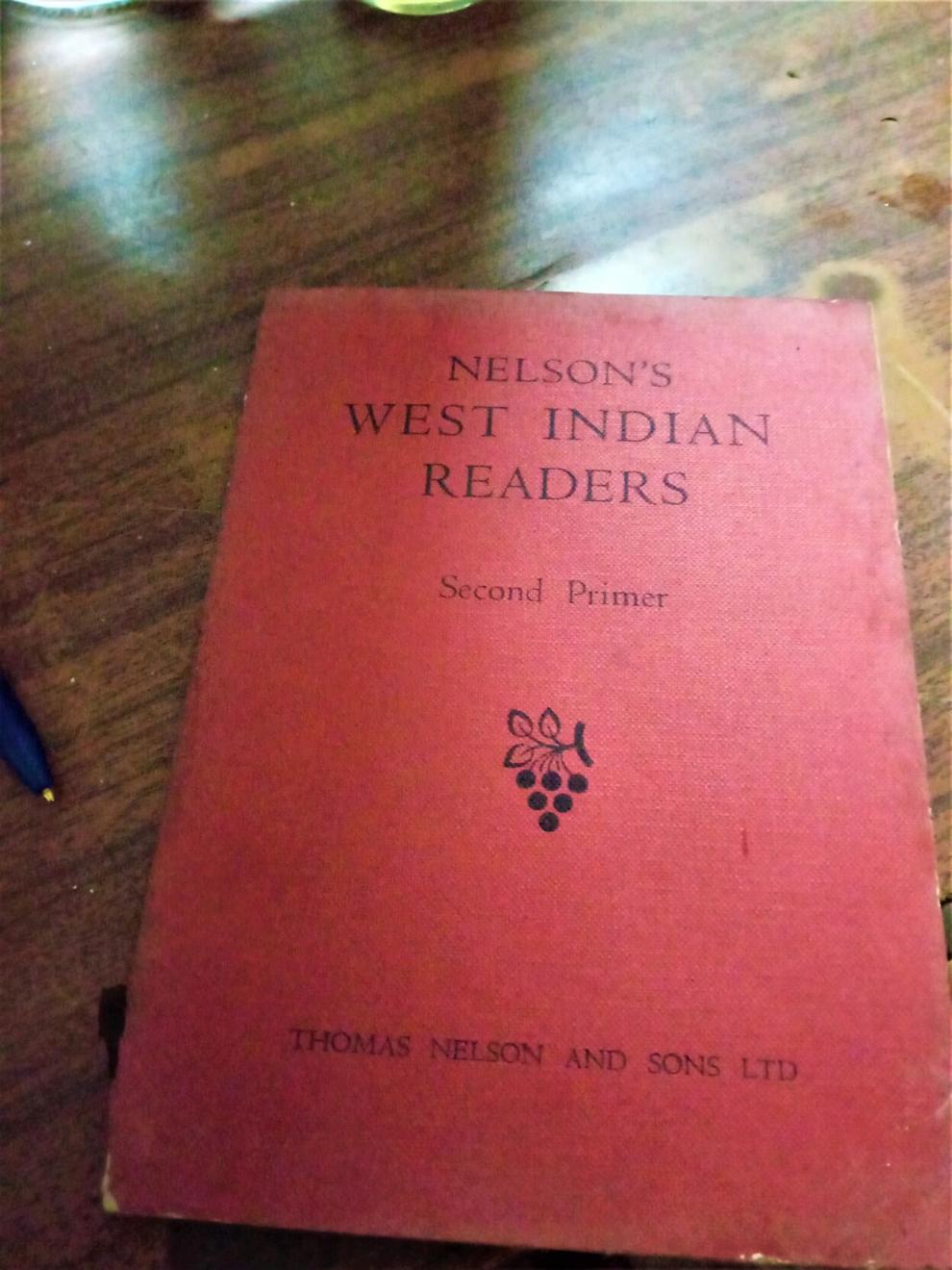 Mr Chong Ling's parents left China in 1935 and lived in Pepper Village, Fyzabad, before settling in Rousillac, opening a shop at the junction to Grants Road, and making a life far better than the one left behind in Guangzhou (Canton).
Few Trinidadians understand the courage and culture shock involved in that migration, not then, and not now.
The Chong Lings did well enough to send Wilfred off to London, England, where he lived for eight years with an aunt.
He returned home post-Independence, to woo the daughter of another Chinese shopkeeper couple -Sam Luk Allum and his wife Lai Sung- who had their shop in Malgretoute since the 1930s.
Back then, the Allum business was in 'town centre'.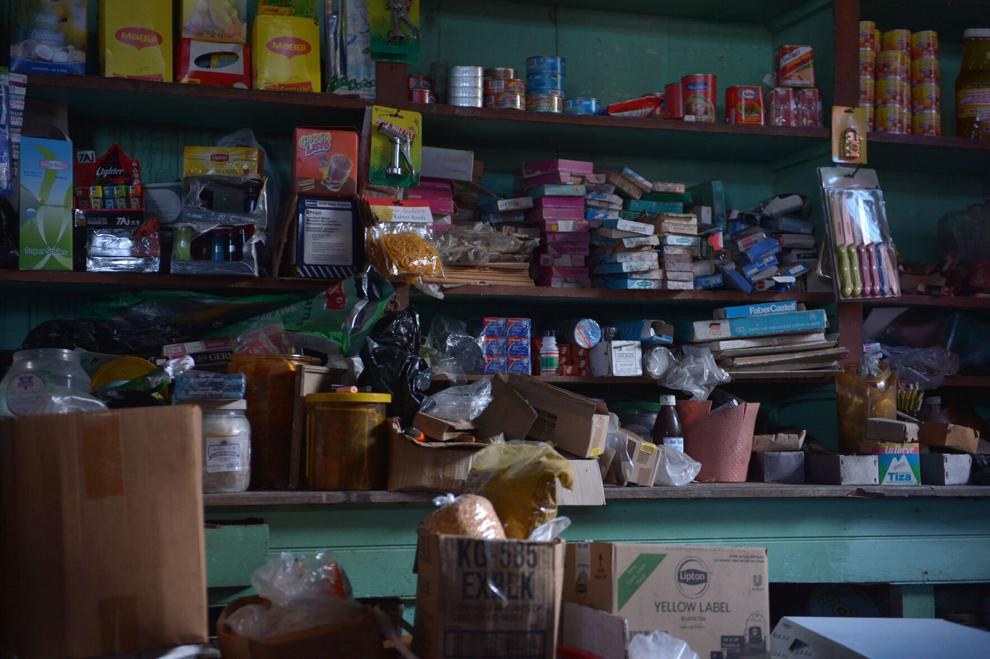 It was a pawn shop and the village bank, where you could owe until the fortnight payday, a pit stop for the bull cartmen, and later the tractor drivers "pulling" cane to the weighing scale down the road, a meeting point for labourers who would maybe have a drink/s before walking into the burnt fields at 4 a.m. with roti and a talkarie, to cut the cane by the light of flambeau, and return that evening, blackened by sun and soot, to do it all over again the next day.
Chong Ling married the Allums' daughter Joan and moved to Malgretoute. Joan died 19 years ago this month. Mr Chong Ling's son died young too. And so did the sugarcane industry that sustained his business.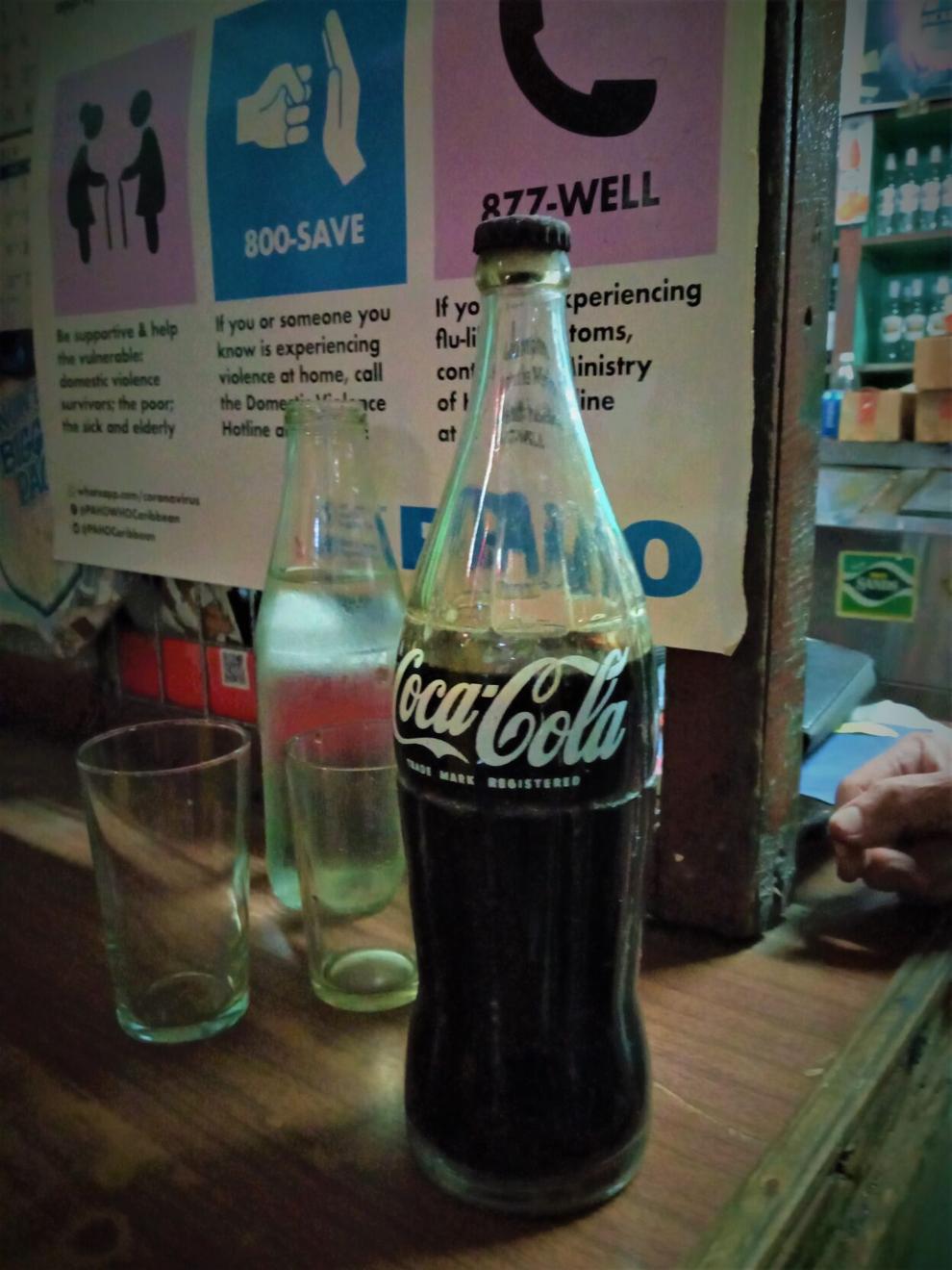 With his daughter, he kept the place open, and finding no reason to renovate the place, left us a time capsule.
You must walk through the same solid wooden doors hanging on cast-iron hinges to sit at stools, footrests worn smooth by countless garden boots, counter and shelving all original to the place rebuilt in 1956. There is a wooden barrel where the sugar is still kept.
The weighing scale should be in a museum. You will find a stack of never opened Nelson's West Indian Readers Second Primers from 1953, and some fat line copy books with Her Majesty's emblem on the front, glass baby bottles (Evenflo) from 1972, Chief brand floor polish from 40 years ago, a Skip detergent bucket from the time there was a laundry battle with Breeze, a porcelain Ju-C soft drink advertising sign from Bottlers (St Vincent) Ltd from the 60s, and a priceless Carib Lager beer sign on the front wall that must be the oldest in existence.
The updated public health ordinance meant Mr Chong Ling had to install 'his' and 'hers' washrooms in the drinking area.
But you still have access to the outdoor urinal, and its unforgettable smell, because this is the last 'rum shop'.
Rare liquor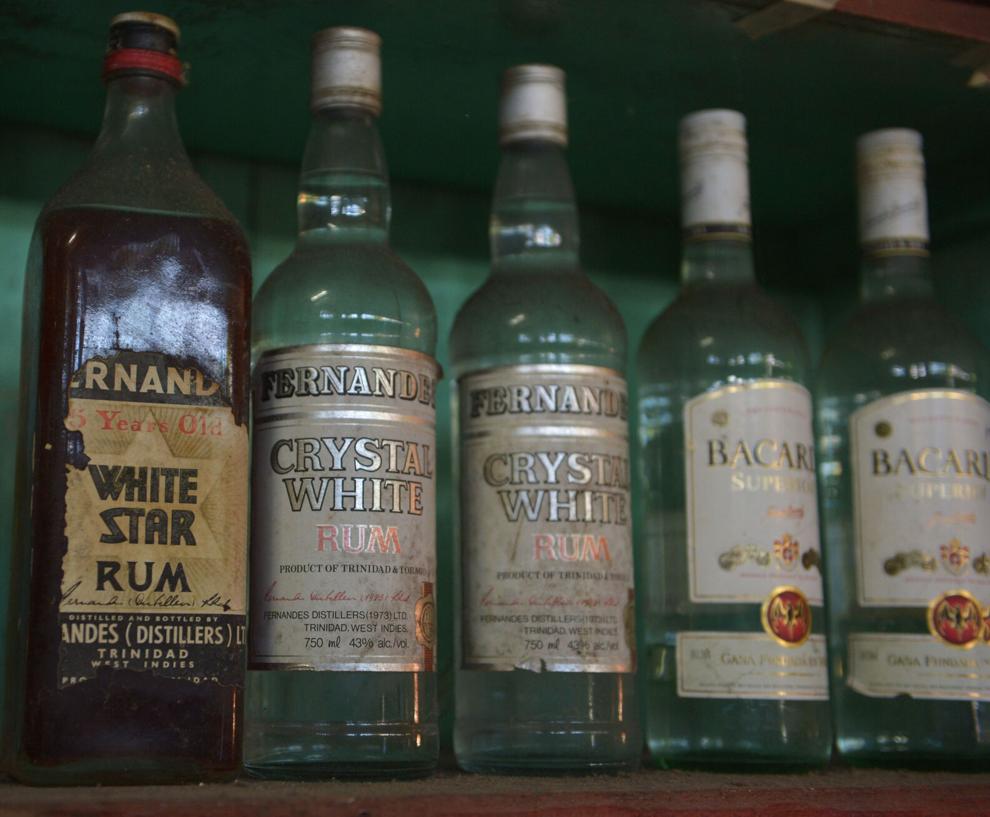 And here are the rules.
Do not ask for a cocktail. Do not request music. Drink your alco and beat a table and make your own. If you want food, go home and eat, and come back. You have one whisky here and it's called 'double dog' (Black and White). Yes, cask wine is available. Your ice will come in a plastic bowl. Also available are red and white rum, all from local distillers. But puncheon rum is the favoured drink here. All the brands are represented, and Mr Chong Ling is something of a connoisseur.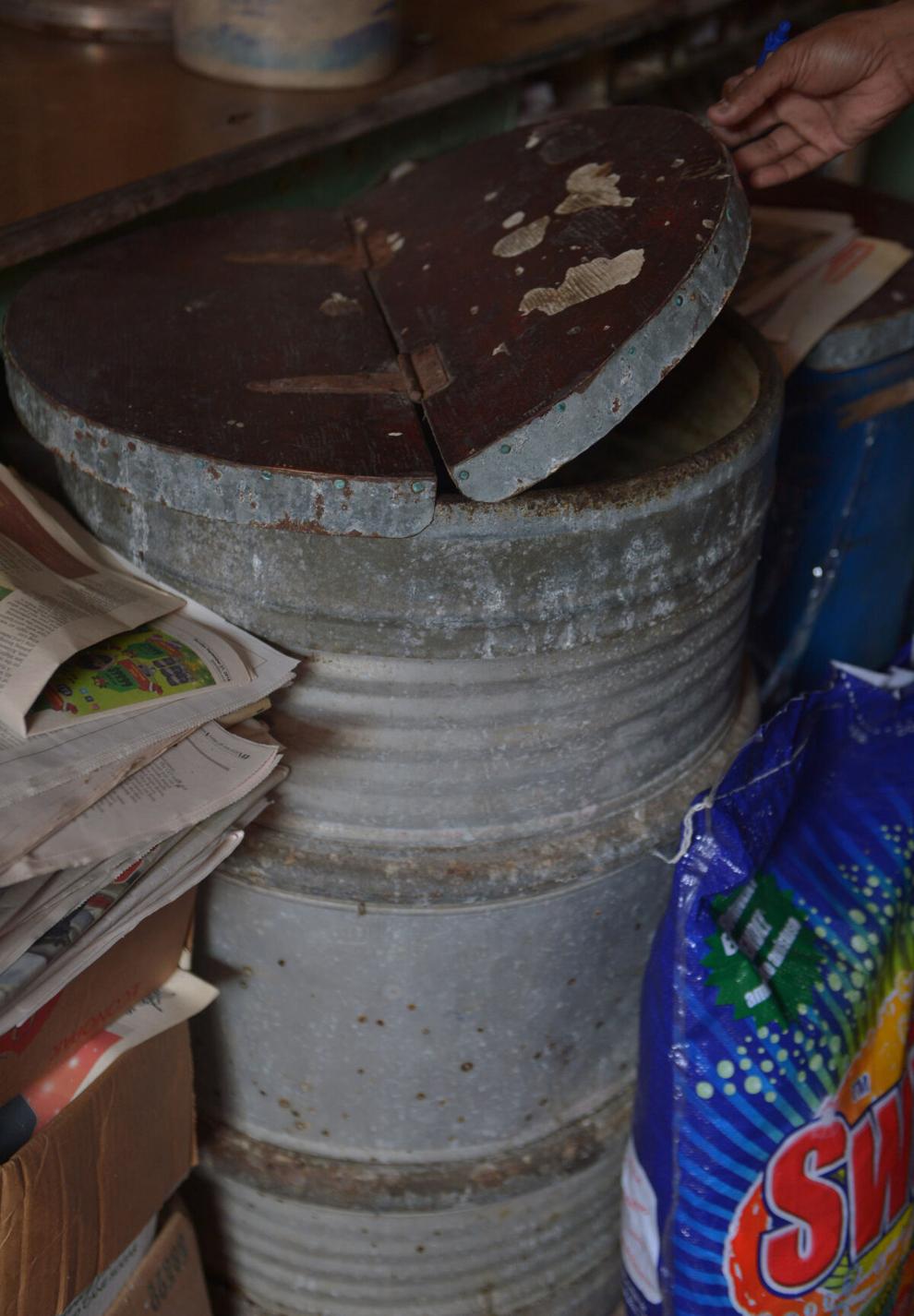 On his shelves you can find a flask so old it's measured in British Fluid Ounces and made by TDL (Trinidad Distillers Ltd), a Stallion brand bottled by Caroni (1975) Ltd, and the rare red coloured Forres Park puncheon rum made by Fernandes & Company when Trinidad was part of the British West Indies. There are also bottles of White Star and Crystal White Fernandes rum, both no longer being produced.
None of these are on sale, but Mr Chong Ling offered a drink of 'puncheon' the traditional way, and Shannon and Creole insisted.
So we accepted, for research purposes only (yeah, right!).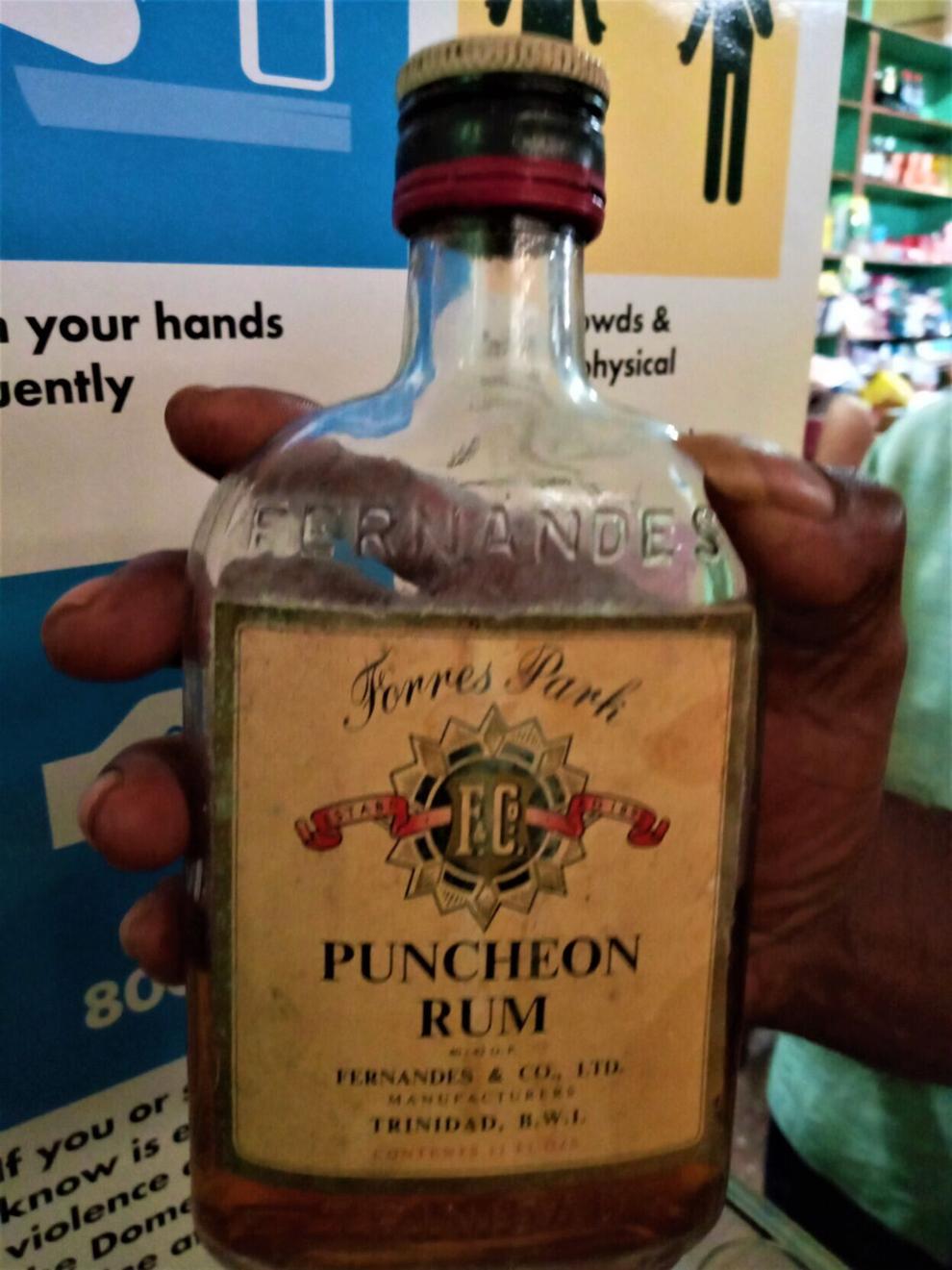 You must have your puncheon rum out of a plain glass, about a quarter filled. Tilt your head back, and pour directly down your throat, all of it. It must be immediately followed by a gulp of chaser – chilled water from a Matouk's ketchup bottle. You are allowed to make rasping or hacking sounds, while rubbing chest. One drink is enough. Anything more may lead to life-changing acts you are sure to regret.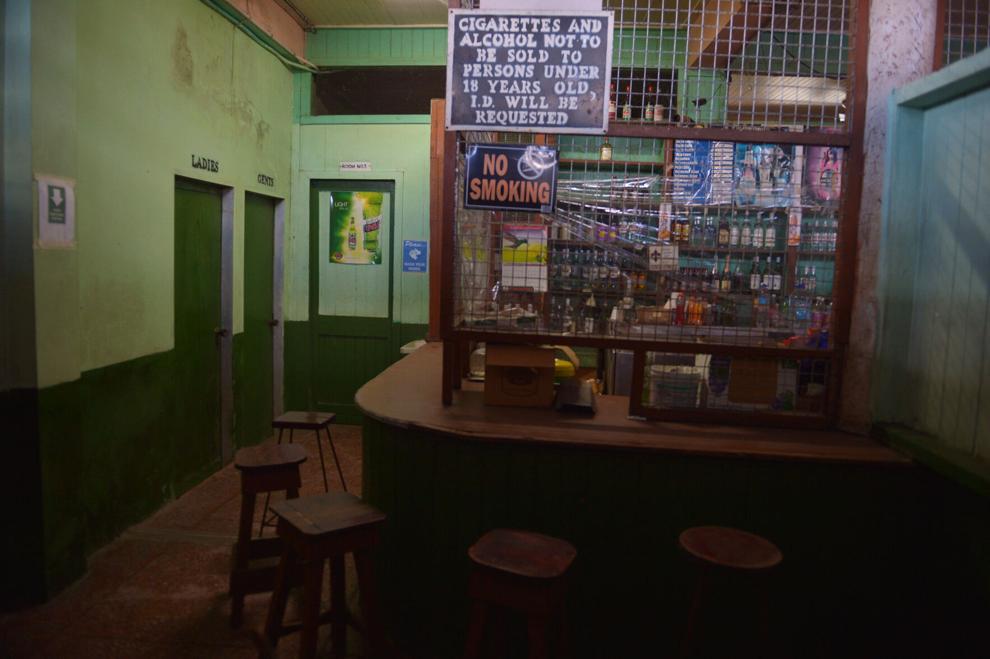 Mr Chong Ling has no plans on closing the business. He survived Covid-19 and the cane industry's collapse, and he is in good health.
"My Chinee Pundit say I going to live another ten years," he says.
NOTE: You can contact Richard at richard.charan@trinidadexpress.com