Trinidad born Javon Kinlaw is on his way to becoming a first-round pick in the 2020 US National Football League (NFL) draft.
The 22 year old former South Carolina Gamecocks' defensive tackle, has made a name for himself in the world of American Football and is credited as having a performance that goes beyond statistics.
However according to Kinlaw, his childhood was filled with memories of homelessness, poverty and other issues that made him grow up at an early age.
Speaking at the Senior Bowl introductory media conference earlier this week, Kinlaw told reporters that he migrated to Washington DC with this mother, Leesa James, and older brothers in search of a better life. However, they were faced with many hardships along the way.
"I came here with my mother from Trinidad and Tobago with my two older brothers. Just growing up in Northeast Washington DC, pretty much homeless living in basements we went without electricity and no water and things like that."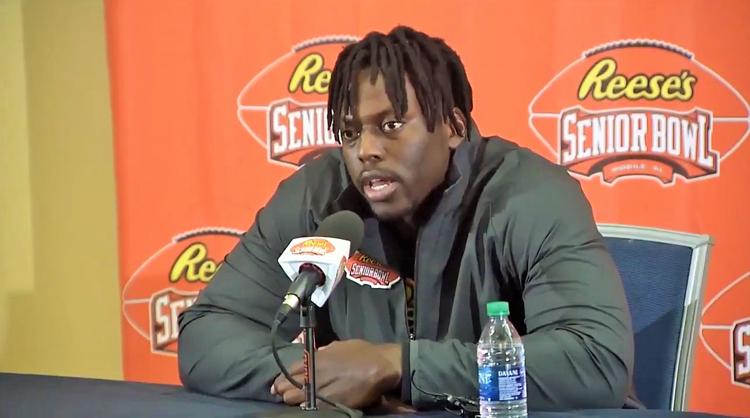 "We had to use the neighbours hose to fill up totes of water we would take it back to the house. We had gas stove we would light the stove we would light the stove with a match get a tall pot and boil the water and mix it with some cold water put it a bucket it take upstairs and take a shower like that."
"But at a young age we thought that was normal, that's how we were living we didn't know everybody else was living and we were cool with that. Now when I look back, it was though man, it made me man at a young age, grew up early definitely. " he said.
Throughout his movement from Goose Creek High school at age 13 to his eventual enrollment in the University of South Carolina, Kinlaw was always considered an exceptional player,
Senior Bowl executive director and former NFL scout Jim Nagy was quoted as describing Kinlaw as a "Really high-ceiling player, Long, explosive, athletic, and he really played his best against good people this year." he said.
However, off the field, he remains humble, admitting that he has not fully processed his success.
When asked about his first round pick position in a South Carolina Gamecocks post-game press conference in November 2019, he said that the development still shocks him.
"It's been a long journey, just coming from the bottom and slowly working my way up. I'm really proud of myself and all that I've accomplished… I expected to just be a football player I never really imagined myself to be in this position. I still don't. It's still crazy." he said.