Opposition Leader Kamla Persad-Bissessar is concerned that changes in boundaries of electoral districts and constituencies ahead of today's Local Government Elections will work against the United National Congress (UNC).
But she is satisfied that her political party "fought a clean fight", with a strong ground campaign.
Persad-Bissessar was speaking to the media after casting her vote at the Hermitage Presbyterian Primary School. She was accompanied by her husband, Dr Gregory Bissessar.
"New seats were created and have now become marginal seats. These boundary changes were clearly against us. But I feel confident. We fought a clean fight and I will leave it up to the voters now," she said.
Two new districts were created – El Socorro/Aranguez North and La Fortune/Debe North, in the San Juan/Laventille and Penal/Debe Regional Corporations.
And there were changes to boundaries in three districts in San Fernando, two in Chaguanas, two in Couva/Tabaquite/Talparo, eight in Penal/Debe, three in Sangre Grande, nine in San Juan/Laventille and two in Siparia.
Asked whether action will be taken against UNC candidate for Febeau/Bourg Mulatresse, Devon Thomas, for statements he made about Prime Minister Dr Keith Rowley at the party's rally in Chaguanas on Saturday, Persad-Bissessar said the matter was now "in the hands of lawyers".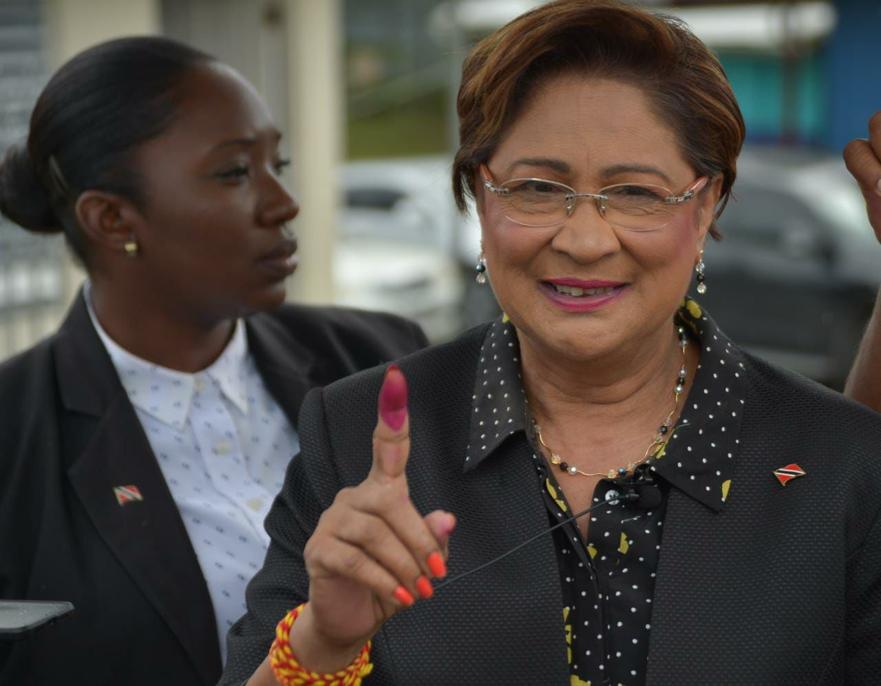 "Well those matters are now in hands of lawyers and I prefer not to comment. I know candidate has apologised. So we await court proceedings, if there are any. I was not there when comments were made…I came later," she said.
Prime Minister Dr Kwith Rowley has instructed his attorneys to sue the candidate for his "utterly vile and derogatory statements".
Persad-Bissessar said although the voter turnout was slow, she was confident that it will improve throughout the day.
She said the party's attorneys were addressing some discrepancies in several areas.
"There are some issues in other parts of the country relating to people wearing to certain colours of t-shirts and other things. But so far it is going smoothly. Our lawyers are there dealing with the concerns. And at the end of the day all we have to do is wait and let the voters decide what is happening," she said.