Minister of Rural Development and Local Government, Kazim Hosein, says his team is on the ground and responding to flood victims throughout the county.
Hosein said the Municipal Emergency Operations Centre of the Ministry has been partially activated following reports of flooding, mainly in south Trinidad.
And he advised citizens to be cautious when traversing areas where the impact of inclement weather, such as flooding and fallen trees.
He said, "We have received several reports of areas where water levels are very high and the DMUs are on site lending assistance where they can. I encourage members of the public to contact their respective Disaster Management Unit through the 24hr Hotline Numbers in the case of flooding or any other problems in their area."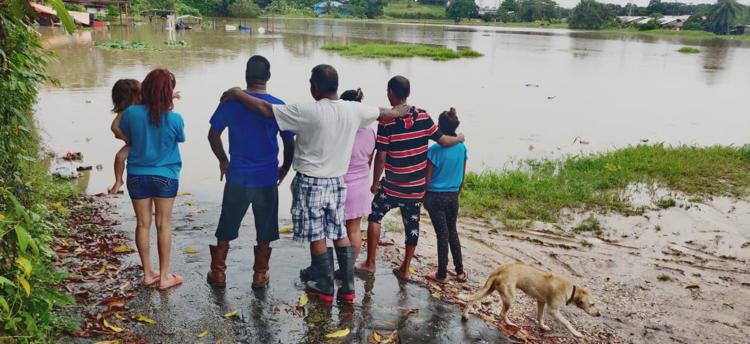 Hosein asked that citizens keep abreast of warnings and updates from the Trinidad and Tobago Meteorological Service (MET Office), Office of Disaster Preparedness and Management (ODPM) and other reputable sources for timely and accurate information.
The Trinidad and Tobago Meteorological Service (MET Office) has issued a Riverine Flood Alert #1 - Yellow level for surrounding areas of smaller rivers and tributaries, particularly in southern Trinidad.
There were also reports of flooding in parts of Port of Spain, Mayaro, Diego Martin and Point Fortin following hours of severe rainfall. As a result, all municipal corporations stand ready to assist their burgesses, he said.
Hosein said Heads of Departments, Chief Executive Officers and Council members are in the field and are conducting assessments and providing relief assistance.
He said Disaster Management Units have begun distributing sandbags and providing first response assistance to all affected citizens. Presently, Disaster Management officials are responding to reports of blown-off roofs and assisting to clear fallen trees in an effort to ensure that all routes remain accessible to the public, he said.
Shelter managers have been alerted and shelters will be activated as the need arises.
He said over 600 Community Emergency Response Team (CERT) volunteers, who have been trained by the Ministry since the beginning of 2019, are on standby to assist their communities.
Reports received by the ministry's DMUs indicate that the following areas experienced street and flash flooding;
PENAL/DEBE
1) Satnarine Trace, Clarke Road
2) Wilson Road, Penal
3) Bunsee Trace
4) Clarke Road, Penal
5) Penal Rock Road
6) Batchiya Trace
7) Debe Trace
8) Rochard Road
9) Wellington Road
10) New Colonial Road, Barrackpore
11) S.S Erin Road in the vicinity of Batchiya Trace Cemetery
12) San Francique
13) Lachoos Road, Penal
SIPARIA
1) Quarry Village, Siparia
2) Mendez Village, Siparia
SAN FERNANDO
1) In the vicinity of Pleasantville
PRINCES TOWN
1) Oropiche River Trace, Jones Village
2) Oropouche South Trace, Barrackpore
3) Figari Trace Basse Terre, Moruga
4) Second Branch, Buen Intento
5) Western Trace, St Mary's Road
6) Realise Road, Barrackpore
DISASTER MANAGEMENT UNIT – HOTLINE NUMBERS
Arima Borough Corporation 800-2ABC (2222)
Chaguanas Borough Corporation 800- DCBC (3222)
Couva/Tabaquite/Talparo Regional Corporation 800 - CTTC (2882)
Diego Martin Regional Corporation 800 - DMRC (3672)
Penal/Debe Regional Corporation 800 - PDRC (7372)
Point Fortin Regional Corporation 800 - PFBC (7322)
Princes Town Regional Corporation 800 - PTRC (7872)
Port of Spain City Corporation 800- PSCC (7722)
San Fernando City Corporation 800 - SCDU (7238)
Sangre Grande Regional Corporation 800 - SGRC (7472)
San Juan/Laventille Regional Corporation 800 - SLRC (7572)
Siparia Regional Corporation 800 - 4SRC (4772)
Mayaro/Rio Claro Regional Corporation 800 - 4MRC (4672)
Tunapuna/Piarco Regional Corporation 800 - TPRC (8772)
Tobago Emergency Management Agency - 211