Reggae/ soca star Devon Samuel, better known as Prophet Benjamin, has left the country.
The injury inflicted by his neighbourhood cat has been deemed serious enough for serious medical treatment.
His departure was confirmed bya relative and in a post on his Facebook page.
Two videos circulating on social media showing Prophet Benjamin nursing an injury on his right hand due to an alleged cat bite.
In a telephone interview with the Express on Sunday, the relative said, "He in the US seeking treatment. He left yesterday afternoon. He is ok but his hand is very swollen. He is on antibiotics at the moment."
The Express reached out to his manager Rick Davis for an update on Samuel's condition, but all calls went unanswered.
But on Prophet Benjamin's official Facebook Page, was the posting:
blessed day too all, on behalf of Devon Samuel aka Prophet Benjamin we would like to say thank you to all his fans for all your concerns phone calls and messages..However, it wouldnt be fair to not inform yall on his present delima .. Mr benjamin has presently left for US to seek professional medical treatment for this very serious and touching matter please keep him in your prays as he goes through this trying time and recovery nuff thanks again and as time goes by well keep yall updated
The Original story
Reggae/soca star Devon Samuel best known by his sobriquet Prophet Benjamin has cat problems.
While this might make a good name for his next soca song, the singer is seeing 'red' after an unfortunate incident with a furry feline.
Two videos started circulating on social media yesterday, showing the singer nursing an injury on his right hand.
Samuel who is from Point Fortin is seen in the video explaining to villagers that a cat belonging to a woman who lives close by bit him.
An irate Samuel is seen in the video saying: Me and that yard……all dem cat dead. All dem cat dead! Really and truly dem cat does really be interfering with people ting. Yuh know I ketch the cat in the corner and next ting yuh know the cat fly up and bite me. On top of that - like it bite a vein. The doctors say it's a serious ting….. (who paying for that) that's what ah come to talk to she about.
In the second video, it shows Samuel going to the lady's home to speak with her.
The video which runs just over a minute shows Samuel trying to explain to the woman what has happened to him, but the woman vehemently denies her cat was involved.
She said, "My cat bite you……so wait what yuh trying to tell meh – my cat evil. No, no my cat doh bite nobody."
Samuel, frustrated by the woman's response, began arguing with the woman about her cat.
Their raised voices alerted neighbours who came out and started recording it on their phones.
She said, "It raise yuh raising yuh voice for meh. When all yuh broke and hungry and looking for compensation – not this here."
Benjamin, who seemed to have had enough with the woman, tirade picked up a dried branch and threw it at one of the lady's cats in the yard.
She retaliated by throwing water at the singer, who scampered away.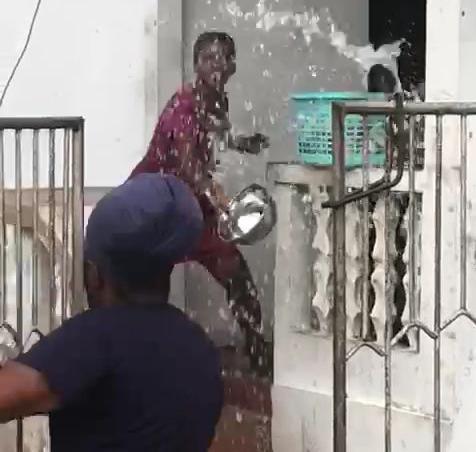 He said, "Ah go come back, yuh feel it done dey…..all dem cat in trouble."
"Ah will go in the cemetery for yuh," she said.
The Express spoke to Samuel's manager Rick Davis on Saturday, who said, there was a previous altercation, and he saw the videos circulating on social media, but he hasn't spoken to Samuel as yet on it, so he doesn't know the particulars surrounding the incident.