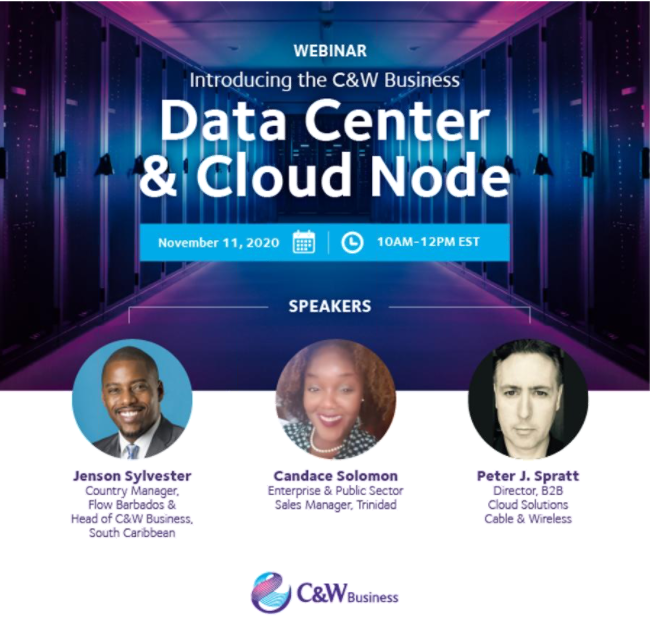 PORT OF SPAIN, Trinidad (November 24th, 2020) -- Trinidad has become the seventh country to house a state-of-the-art Data Centre for leading telecoms operator, C&W Business.
Like the others located in Miami, Curacao, the Caymans, Panama, Colombia and Barbados, the new Data Centre in Trinidad will provide fully managed, locally-hosted cloud services for a wide portfolio of enterprise clients.
Lately, companies have been renting these services to access anything from applications to storage, as it is a better financial and less complex investment rather than owning and maintaining their own IT infrastructure.
Trinidad's new Data Centre was formally launched via webinar on November 11.
Delivering opening remarks, Head of B2B for the South Caribbean and Country Manager for Barbados, Jenson Sylvester gave the reassurance that as a connectivity and technology partner, C&W Business, the enterprise arm of Cable & Wireless Communications/Flow Trinidad, is determined to help improve productivity, streamline efficiencies and exploit new opportunities.
"The COVID-19 pandemic has demonstrated the critical importance that all facets of telecoms infrastructure play in keeping businesses, governments and societies connected and properly functioning," he said.
"From an enterprise perspective, we have seen first-hand the exponential increase in demand for capacity and bandwidth, along with the need for reliable IT infrastructure and around-the-clock support."
Peter Spratt, C&W's Director of Data Centre & Cloud Solutions, provided more details about the new services. He said although located in seven countries in the region, the Data Centres provide support to some 20 countries along the Caribbean chain. The Centres are designed and positioned to encircle economic hubs or dense populations.
"Not every Data Centre is the same. Some have to adapt to their locations," said Spratt.
One reason for this, he said, is that public cloud providers are less flexible in meeting customers' specific needs and don't offer data sovereignty guarantees. C&W continues to service customer requests for a true hybrid environment which includes multi-cloud platforms that carry four main characteristics - security, reduced costs, less latency, and simplified operations. Therefore, the focus has been on getting that ideal mix to complement respective needs.
In support of Spratt's presentation, Sales Engineering Manager at C&W Business in Trinidad, Marcus Lewis also explained that the sales solutions are not fixed but customized to suit a company's needs. Sharing the experience of a client which happens to be a Government agency, he said they had been delivered a customized backup solution that had both on-premise and hosted components.
Some advantages of the B2B Data Centre include:
A capable team of project managers to assist with deliverables
A 24/7 Customer Service Centre which tracks and updates to resolve any problems that may occur
Contracts can be managed, depending on financial requirements