A contingent of 50 members of the Trinidad and Tobago Defence Force (TTDF) left Trinidad and Tobago early on Tuesday for St Vincent and the Grenadines.
The group, comprising personnel from Engineers, infantry/provost, medical and logistics left on board the Galleons Passage at approximately 7am, and will be stationed in St. Vincent and the Grenadines for two weeks, in the first instance, providing humanitarian and relief assistance following the eruption of the La Soufriere Volcano. 
Representatives from the Trinidad and Tobago Red Cross Society, Caribbean Public Health Agency (CARPHA), and members of the media were also part of the contingent that departed on the Galleons Passage. 
National Security Minister Stuart Young address the troops before their departure and thanked them for responding to the call to provide assistance to the citizens of St. Vincent and the Grenadines, in their time of need.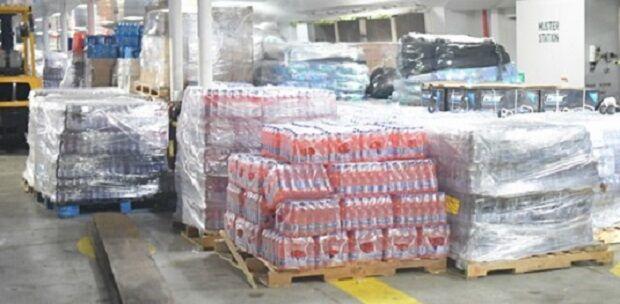 Young told the troops they have the support of the Government and urged them to stay safe in what is now an active danger zone, amid a global pandemic.
He also encouraged them to represent the people of Trinidad and Tobago with professionalism as they execute the required humanitarian and relief efforts consistent with their training, and extended best wishes for a successful mission as well as a safe departure and return journey. 
The TTDF contingent also received support for their mission from Acting Chief of Defence Staff, Brigadier General Dexter Francis, as well as the Commanding Officers of the Trinidad and Tobago Regiment, Trinidad and Tobago Coast Guard, Trinidad and Tobago Air Guard, and the Trinidad and Tobago Defence Force Reserves. 
In addition, relief items collected by the Office of Disaster Preparedness and Management (ODPM), formed part of the humanitarian effort.
Among the items shipped were water, food essentials, toiletries, hygiene materials, cleaning supplies, simple medical supplies and other items requested, for example, water tanks, and buckets.
Three water trucks were provided to transport potable water. 
After docking in St Vincent, the Galleons Passage will be used to nationals of Trinidad and Tobago currently in St Vincent.
Returning nationals are expected to land in Trinidad on Wednesday, and will be quarantined and treated in accordance with the Ministry of Health's COVID-19 protocols. 
The Government of Trinidad and Tobago remains in contact with the authorities in St. Vincent and the Grenadines and will continue to monitor their situation.