Story by Dr. Sheila Rampersad
Photography and Video by Michael A. London
Indira Baboolal is a simple, long-suffering woman whose days are a routine of devoted care for her family. At 47, she is raising her own children as well as two of her sister's; she nursed her deceased mother, is caring for her hearing-impaired father and for much of the last 16 years has been a faithful visitor to the prisons to see her nephew, Ryan Ramoutar.
"I am his aunt but I'm a mother figure because I live here and he lived here and anything he used to come to me. He was a real nice boy, helpful, used to go to school, not a troublesome fella at all."
'Doh lime so much' 
The morning of the consequential day—November 26, 2004—when her nephew/son would join two friends in killing a fellow Princes Town villager, Indira's husband was plastering a wall.
"He did helping my husband do some plastering. He was normal home. In the evening my mother and father telling him why allyuh doh behave allyuh self and doh lime so much. And that was it. He leave…"
Ryan's mother had left him for alcohol, a new husband and a life in Debe. Indira, the surrogate mother, was therefore the one contacted by police the morning after the murder.
Eric Narine, grandfather of Ryan Ramoutar, kisses a photo of his grandson during an interview at their Princes Town home.
"He (Ryan) thought he was going back home after he give the (police) statement. Because the officer really say give the statement and you go go back home. So he end up giving the statement so I really thought, because I never witness these thing, so I say well yes, he going home. So then in the evening when he done give the statement and everybody sign to it—I had to sign and everything—they tell him they have to keep him until further notice."
'Fall down right dey' 
For the next decade and six years, Indira would see her nephew/son only in courts and prisons, and occasionally at a prison expo or competition. Her family's heartbreak and disappointment are palpable when, during this interview, Ryan's grandfather kisses a photo of Ryan and moans, "I miss him. I miss him."
No one in the family had a criminal background. No one in the family thought one of their numbers was doing anything to put them on the opposite side of the law, much less for murder. Indira's shock still shows, all these years later; she cannot find an explanation for how her nephew/son came to be a killer.
"Because he have plenty people to support he. He have all he aunts and uncles and cousins to support he. Right through he with he cousins, uncles, aunts and them…(When) I get to hear is murder and that is what they hold him for, I coulda fall down right dey."
Nobody eating 
By the time she left the police station that night, Indira's old parents had already heard the devastating news that their young grandson, who earlier that day was at home plastering a wall, had murdered a villager.
"Them start to cry and worry. They couldn't believe what he do. Then my mother come and she get sick. She start to worry, cry. Nobody eh eating. For two—three days nobody eh eat. Just worrying, crying. To know what really going on now, if is a dream or if is real. So it was really hard here too and then in the night when news and thing take place they see it…"
Convicted murderer Ryan Ramoutar, 33, in the library at the Programmes and Industry section of the Maximum Security Prison (MSP), Arouca. Ramo…
At the time of the murder in 2004, Ryan's grandparents were surviving on a state disability grant. They had to raise money for lawyers' fees, transportation to court and to buy supplies for Ryan in prison.
"I went to court, and my sisters—three of us—used to go to court right through in Couva. My mother used to go sometimes although she de sick and ting. One time the matter was in San Fernando and we was going and my mother get a stroke and the ambulance had to pick she up and carry she in the hospital so we couldn't go that day. She get a heart attack after the stroke."
Proud
Today, in spite of her disappointment, her love for her nephew/son endures; she is proud of what he has accomplished in prison.
"Although he in there I proud of what he accomplish because it have people in there and they don't do nothing and he learn heself. Nobody never teach him anything in there and he write dem books with pen and paper, notebooks. He didn't access to no computer, nothing. Right in the cell there he sit down and write dem things. And he write nine books in there. When he comes out, he eh make up he mind yet but he say is either social worker or a teacher or he could do he books. He want to further he studies anoll."
But 15 months shy of Ryan's release, it is difficult for her not to worry about the future. In the time that Ryan has been in jail, Indira has had to daily face the family of the victim, Samraj Wendell Rajkumar (Skully).
"I know them. In a point ah time they wasn't talking to nobody here but now if they see yuh they will say hello and they will ask how we going, how he going; they will ask for Ryan. Is only like recently eh because when this thing now happen, they didn't want to hear anything, they eh talking to nobody.
"But I take all my wrong. Whatever they tell me, I never tell them nothing because if was we, we woulda be the same way. We is a family like that. We take all we get and we never insult nobody. A couple years after, the mother come out and we talk to she and ting and I tell she Ryan sorry, that he write a letter to them through the court, a remorse letter, and he ask for forgiveness and he sorry for what he do."
Notwithstanding her efforts at reconciliation and the positive response from some of Skully's family, Indira knows feelings run deep and that her nephew/son has cut an incurable wound.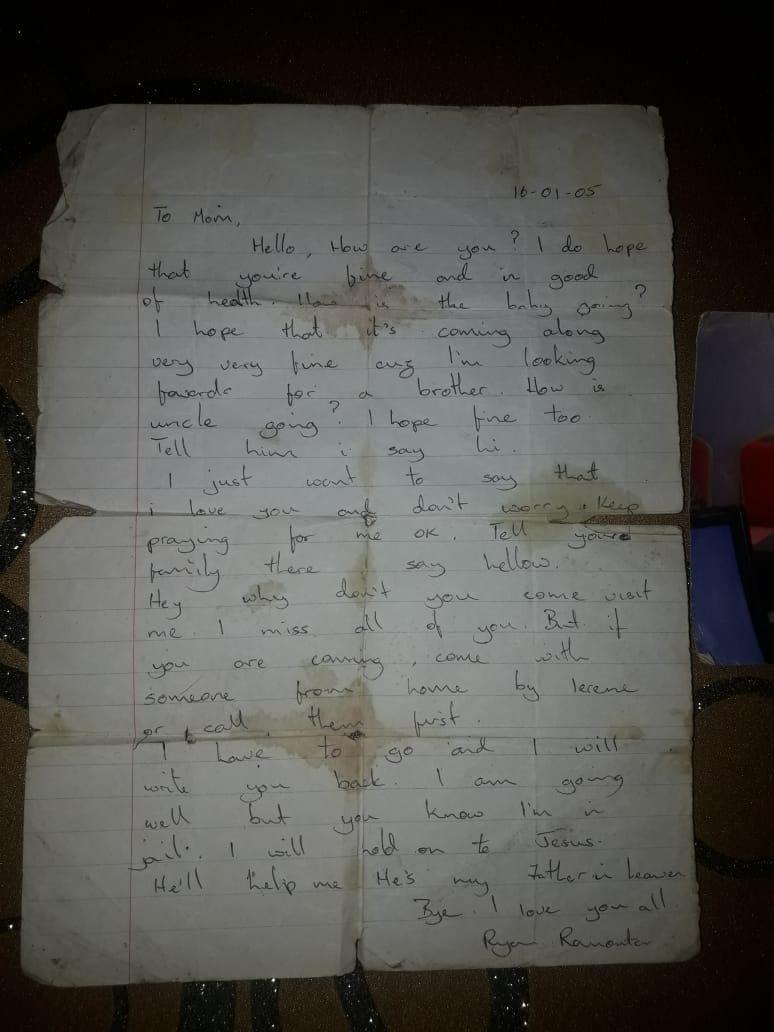 "I does always tell him yes he coming out and the family right over there and with their anger I don't know what could take place but we hoping for the best. But I know how it going to be. I think when he come out, he just have to be safe. We glad he coming out but we scared in a way too. With the uncle and dem..."