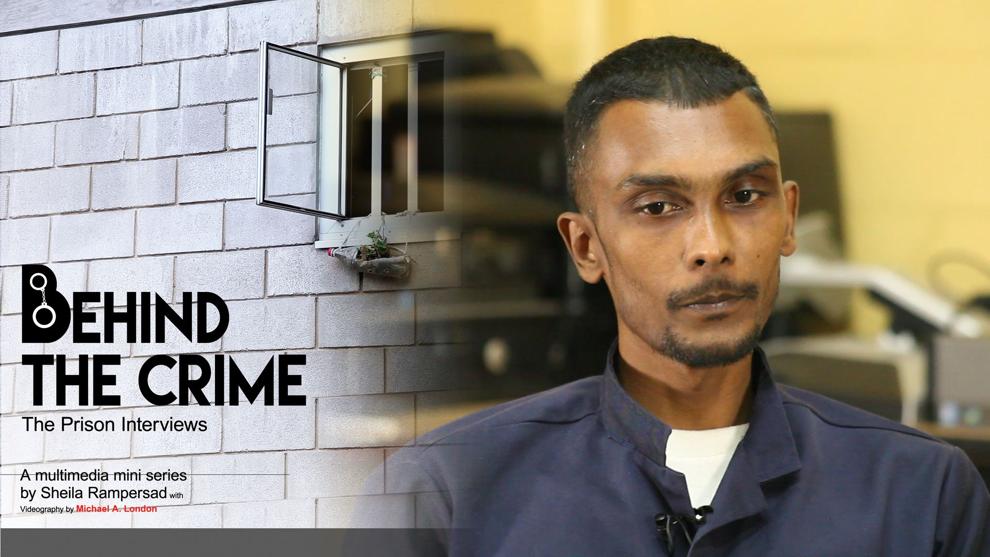 In the early night of November 26, 2004, 23-year-old Princes Town taxi driver Samraj Rajkumar aka Skully was murdered by three teenagers—Ryan Ramoutar, 17; Pream Badree, 15 and Hassan Hosein, 18. The teen murderers and their victim all lived within a stone's throw of one another along the Iere Village Branch Road. The trio pleaded guilty to felony murder. They will be released in May 2021. Behind the Crime: The Prison Interviews interviewed Badree and Ramoutar at the Maximum Security Prison. Last week we featured Pream Badree. This week we feature his charge partner, Ryan Ramoutar.
Story by Dr. Sheila Rampersad
Photography and Video by Michael A. London
It's difficult to get a fix on Ryan Ramoutar.
He is among the prison services' best models of prisoner rehabilitation: he leads research for the Maximum Security Prison (MSP)'s debate team, has published nine books, obtained 11 O'level and eight A'level passes with a CAPE distinction, tutors prison officers and has completed as many courses as are available.
He is articulate, has no prison infractions on record and considered a perfect candidate for release into society. There is great expectation that when he re-enters the free world next May he will be a productive, active citizen, far evolved from the 17-year-old who used a utility pen knife to stab and open the throat of a fellow Princes Town villager in 2004.
His sore spot, the point in his youth when things jumbled up inside him, is shaped by a suicidal father, an alcoholic mother and the humiliation of poverty. It's the part of his life he talks about least, the piece of him soothed by educational achievement.
A Flavorite ice cream cart features in his lone memory of his father.
"I saw him once. Other than that, his ID card picture. He used to sell Flavorite on a bicycle cart and one day passing he stopped and asked me to come out the road to see him and I did. I didn't want to go at first. There was nothing outstanding in that conversation. He gave me an ice cream or something. I was about seven or eight."
After he turned nine, word came that his father had died by suicide.
"My grandparents told me he attempted suicide and was still alive in ICU. We visited that afternoon. He was comatose. Next morning we heard he died. I don't know why he killed himself."
The unsolvable mystery of his father's life and death churns deep but not deeper than the alcoholic mother who abandoned him and to whom he wrote child-like letters saying "hellow."
"I have scattered memories of her. She left me with my grandparents and relocated to Debe. I tried to go live with her but my stepdad and I, he didn't like me, so I went back by my grandparents. In my teenage years my mom used to come around now and again, mostly to visit her parents more than me but I used to go spend weekends by her.
"She's my mom and I do love her. I've been incarcerated for 15 years and she came twice but I hold no malice because she has two kids for stepdad, now deceased, so she's on her own."
Ryan harboured dreams of seeing his mother upon his release. He wanted to visit her, help her, show her his love. Two months after this interview, his mother died suddenly. Her body was found at her Debe home, clothed and on her bed. Within days, the noticeably thin debater had become gaunt.
"I didn't know I still loved her so much," he said, trying to describe his grief. "I felt sad, hurt, hopeless. I really wanted to see her again. To aid her."
Instead, he got what the prison service calls a "view corpse", an opportunity to spend 15 minutes with the body at a funeral home. In his grief, his crowded 10 x 10 cell was never smaller, the prison routine of diet—airing—lock-down never more a slog, and the callous indifference to personal pain seldom as acute.
"Grief is personal here. No one cares. I still had to go for diet, work etc. I prayed a lot."
Yet he debated admirably at the Woodford Square finals of the prison service's inter-station competition, hours after his mother was buried.
Poverty
Even today, Ryan's family is among the southland's rural poor. Family circumstances are not strikingly different from when Ryan was a child being raised by grandparents on public assistance, working odd jobs to buy school supplies and having to be satisfied with second-hand items from Unique bookstore.
Convicted murderer Ryan Ramoutar, 33, in the library at the Programmes and Industry section of the Maximum Security Prison (MSP), Arouca. Ramo…
Before long, rebellion set in, and he started to roam the village on his bicycle and loiter on the junction. He was easy prey.
"Same thing every day until my friends' friends started becoming my friends and one of those was a criminal. (He) came out of prison and we started doing some petty crimes together."
Under the criminal expertise of this older man recently released from jailed for kidnapping, Ryan and his teenage friends started with petty robberies, advanced to stealing cars and finally to the big league: a robbery of a Couva businessplace already scouted by the "mastermind."
"The man had connections in prison and we were looking to get a firearm but we didn't. He said if we had gun we could do bigger things. We said ok. He say he knows someone who had the connections to get one and he said he went but the man wasn't there so he didn't get it. That was 2004. Guns wasn't that rampant like now. Anyone can get a gun now, even a little child."
The murder
The plan involved Ryan, Pream Badree, Hassan Hosein and Skully, the last identified as the getaway driver.
"While there we started speaking casually about doing this robbery and he (Skully) began to refuse. He don't want to do it anymore. He wanted to leave to go home and he rose from where he was sitting. I want to believe Skully had not done this before...
"He was about to leave and I was always a quiet person. I don't like to put myself in the front so the most I said was if you not going who will drive? He say he not on that. The girlfriend (of the mastermind) say allyuh cannot let him leave; he know us and what we are about to do. (Hassan Hosein) held his hand and a scuffle started right there and then. I saw that this encounter was serious…I had a knife on me and took it out thinking he would become intimidated. He didn't. He kept on rebelling and the girlfriend kept saying don't let him leave, he know we, and I actually stabbed him. It was on his shoulder and his back.
"It was a pen knife, short. I tried to hold him back from scuffling with (Hassan Hosein) then got angry for him still fighting. The first stab (was) on his shoulder. His two hands on (Hassan Hosein) and I thinking he would let go and that would end everything. But it did not. The two others also had knives and they took out theirs and did what they did.
"By now the girlfriend yelling don't let him live because he would have reported us and we would all be arrested for wounding him. The mastermind and his girlfriend were aware of the system, had court matters, so she knew more than us. We listened to her as if she was giving us advice. And that is how we end up killing Samraj Rajkumar (Skully).
"I held him down on the ground. He was still fighting up a lot. Three of us holding him back and…yeah. (Pream) flick open a knife that he had and both of us actually held the knife and pull it across his throat while he was on the ground. I don't know why we did that but that is what we did."
Release
Fourteen months away from release after serving 17 years for felony murder, Ryan returns to the moment he imprisoned not only himself but everyone he loves and the family of the man he killed.
"Now when I try to remember it, it is like a blur. It happened so fast yet it happened that I could actually remember everything but not how I feel. I remember when it finished I was frightened, vex for doing it, like just after it was done and I was saying to the others that we didn't have to do this, why we do that.
"I had dreams and the dreams does not relive what happened, but his face. I do a lot of thinking about him. I think that I know I will have to answer for this innocent life…When we took Skully's life away we also took our lives away from ourselves and our families and no matter what I do it cannot bring back Skully and cannot give me back the years I have spent in prison away from my family. So over the years…I have come to the conclusion that whatever I do, I will still have to answer for Skully when I die and no matter what I do, I cannot make this up to his family."