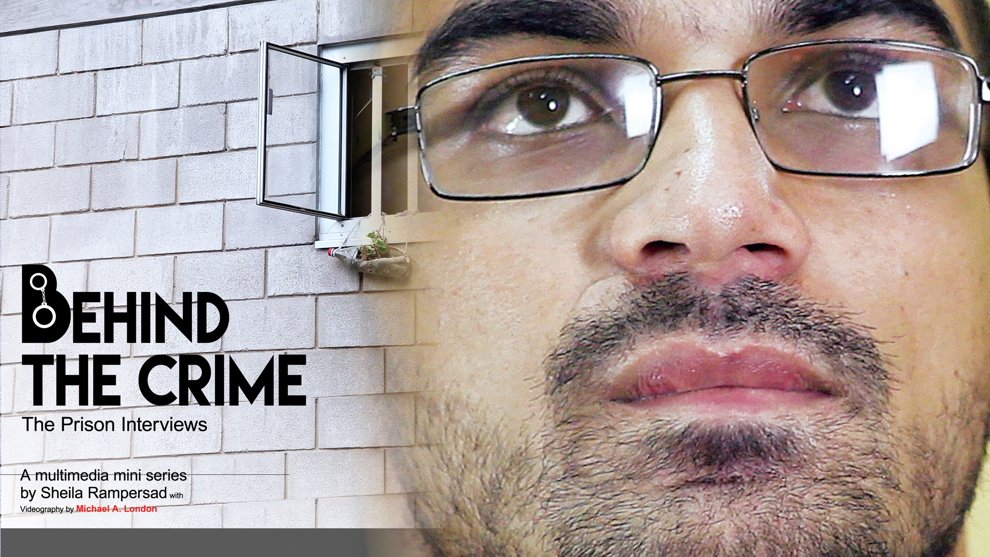 In the early night of November 26, 2004, 23-year-old Princes Town taxi driver Samraj Rajkumar aka Skully was murdered by three teenagers—Ryan Ramoutar, 17; Pream Badree, 15 and Hassan Hosein, 18. The teen murderers and their victim all lived within a stone's throw of one another along the Iere Village Branch Road. The trio pleaded guilty to felony murder. They will be released in May 2021.
Behind the Crime: The Prison Interviews came face to face with Badree and Ramoutar at the Maximum Security Prison, Arouca.
 Story by Dr. Sheila Rampersad
Photography and Video by Michael A. London
Form Four student Pream Badree had two tests on November 26, 2004: English B in the morning and Spanish in the afternoon. He wrote the first and ducked the second to return to his Iere Village, Princes Town home. Mid-afternoon he linked with his cousin, Hassan Hosein, and recent friend Ryan Ramoutar. Six hours later, he dragged a knife across the throat of village taxi driver, Samraj Wendell Rajkumar aka Skully.
How a 15-year-old boy crossed that ultimate moral boundary in quick time is the mystery presented by the eccentric Badree who likes to play-bite the people he loves and who as a child liked to roll about on the floor. Now 29 years old with only 15 months left before his release, the boy whom his mother calls Gouti and the village knew as "the cute lil white boy" thinks he has mapped out the answer.
He describes a childhood of family feuds that were heartless to children –"If I go by a cousin and a bulb break, is me. Everything is me. They shun us."
But nothing he suffered equaled the brutality inflicted on his mother.
"The licks we get was baby compared to what she used to get. She said they starve her, my grandparents. They were very strict and I feel that bring an anger, me against them. We was in cardboard box in the canefield when she was cutting cane."
Among the Maximum Security Prison (MSP)'s top debaters, Badree is known for fluency at the podium. His account of his growing aggression, however, is delivered in inexpert sentences.
"My fighting, anger, all start in the neighbourhood. Nobody could touch me just so…in school if somebody feel they could tell me something, I can't let somebody walk over me just so. So I would just attack them. For any lil thing. If they cuss meh, push meh round, simple like that. Badree mix with bhajee. From the time I hear…words do hurt. I doh care what people say, they do."
He was a helpful pupil but fought two or three times a week, played what he calls "violent games", cussed a lot and earned the reputation of a hothead. Most of his errant behaviour, he says, never reached the ears of teachers or his parents.
With his cousin and friend—Hassan and Ryan—and controlled by someone he and Ryan describe as "the mastermind", he dared to do even more.
"In the month I know Ryan…petty robberies, (we) buy pizza, hang out in the tattoo club where I had a girlfriend, listen to rock music…Beat up people for fun. Take what they have.
"As a person in crime, you see somebody, see their vulnerability, target that person…It was an adventure for me. Fifteen years old. Bored home. Was an adventure for me. Lewwe go. Do something."
The Murder
So it was on the day he murdered 23-year-old Skully.
Badree was to travel with his father to Dominica but didn't because he had to sit his end-of-term tests. His mother had escaped the abuse and moved to Las Lomas with her new family. After exams, he was to go by her. She phoned to ask if she should pick him up. He refused. That was the last his mother heard from him until police showed up at her home the next morning.
Badree searched for Hassan and Ryan, didn't find them and returned home. Between 2.30 and 3pm, they rolled up. Home alone, he boiled dumplings and fried them in ketchup. The three ate before leaving for "a scene"—a robbery in Couva. The "mastermind" had planned it all out. Skully had been recruited as the getaway driver.
"When we told him about the robbery, he was a little frighten. We tell him you cyar be frighten. We go get a little money. You go get something. From there he start to argue and *** (name withheld) say we cyar let him go so I went and hold him and he start to struggle.
"Pushes. Slap. Ryan had a knife in he pocket. He end up, as a threat, pulling it out. Skully got it. From that incident, I end up pulling it out and giving him some stab. On he chest and on he back. During the altercation, I just rip it out (the knife) because when I get angry, I does actually act without thinking. So I just grab it and, knowing that I young and adventurous, I just want to know how it feel and I start to stab him.
"Up to today the exact number still in my brain, seven on his chest, eight on his back. I remember it. I remember it. When Ryan hold him, I end up slitting his throat. Sometimes is spur of the moment. Is not something you think about how to do it because a lot of us watch TV and say…but it actually does just happen so. I just grab him and pull.
"…Then we carry him to the back and throw him somewhere. Whether he was alive at the moment or not, I can't remember. I was done shock, frighten, I done tell meh cousin not again."
Prison Culture
Although a relative who was previously remanded in the Youth Training Centre (YTC) offered advice on prison behaviour, Badree was unprepared for the casual cruelties of inmates and prison officers.
He was placed in Cell Block, an area of isolation from other prisoners. It was a 10 x 10 cell with one bed frame, no mattress, a toilet, no lights and thin vents. He was one of three in the cell sharing one mat on the floor. Later, an old mattress was added.
On his first morning at YTC, he was forced by an officer to drink hot porridge.
"He took me out and told us, 'Drink it! Drink it!' My whole mouth was burning. It was hot. I saw the officer years later and reminded him and he say he was clowning around.
"That first experience, from that moment, I was a survivor. I will find a way to survive. I will still retaliate. When you come in, the first thing they tell you is don't talk to anybody, don't take nothing from nobody. People curious. They start to ask questions. People might offer you something but only to get something back when you get a visit."
Rehabilitation
He spent 39 months in Cell Block. By the time Badree turned 18, then prison commissioner Sterling Stewart had seen his intellectual potential and did not want him further polluted among adult prisoners. He was granted permission from the court for Badree to stay at YTC.
Badree spent a total of 10 years and eight months there, during which he earned seven CXC passes, started a Costaatt IT degree before the course ended from lack of funds, and was put in charge of YTC programmes. He writes spoken work poetry, trained as a debater and has become one of the fiercest competitors on the MSP team. He has visited schools, community centres and neighbourhoods trying to dissuade other young people from violence.
Managing rage
But the rage, even after anger management courses, still nags, making him unsure, insecure.
"Currently, if somebody tell me something I wouldn't attack them or cuss them but I will have to say something, ridicule them in heights. If I could withhold from hitting somebody, in the same cell, yes I flare up. Upon release, it have bigger world than here. If I angry I could look at somebody and say remember Pream, you out. Turn and go. I feel I could do that. It have times I did it. I am 8 out of 10 sure of keeping myself from getting angry."
It is not easy to tame negativity in prison. Journeying towards release after he ends his 17-year sentence, Badree fears he will not reintegrate with his family, still writes poems for his old girlfriend who moved on years ago, and fights sadness and depression.
"Yes I do a crime but is a 15-year-old boy do a crime. I try not to think about it. I can't change it. I can't bring back nobody so it's better not to have two people in the ground, try to make myself better and give back to society. I deserve a chance. I have no dreams or nightmares about it. No anxiety about it… I come to terms that it happen and I move on. I accept that I did it but I try not to blame myself. That's why I plead guilty in court. To dwell on it, it seems like I going nowhere."