Spain's Rafael Nadal captured his 19th career major tennis title when he defeated Daniil Medvedev of Russia 7-5, 6-3, 5-7, 4-6, 6-4, to clinch the 2019 US Open crown at Flushing Meadows, New York, on Sunday.
In a thrilling match at the Arthur Ashe Stadium, which turned out to be a replay of last month's Montreal final, the fifth seeded Medvedev broke Nadal in the third game of the first set only for the Spaniard to break right back at 2-2 to be back on serve. With the match at 5-5, Nadal would hold serve and then break Medvedev to clinch the first set 7-5 in one hour and four minutes.
Energised by having taken the lead, Nadal captured another break in game six of the second set to go up 4-2 and then holding serve twice to capture the set 6-3 in 48 minutes. But any thoughts of finishing the match in straights sets as he did in Montreal, went out the window when Medvedev, after being broken in game five to be down 2-3, broke right back and then broke Nadal again in game 12 to clinch the third set 7-5.
In the fourth set both players served well to hold serve until the 10th game, where Medvedev secured the break while leading 5-4 to level the match at two sets apiece.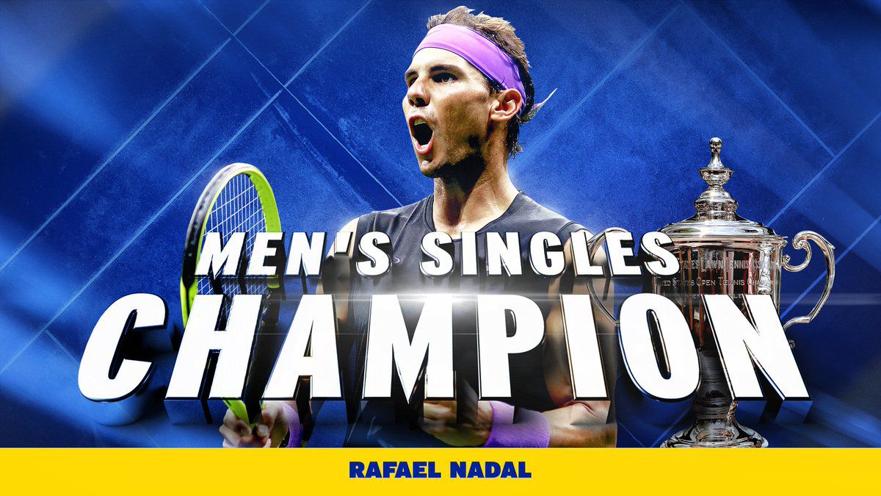 The fifth and final set took the intensity to another level, and it was here Nadal dug deep as is customary.
He broke his opponent in game five to put his nose in front at 3-2, held serve to extend it to 4-2 and then broke again to be one game away from victory. Medvedev would pulled a break back at 3-5 and then held serve to be down 4-5. However, Nadal was not going let it slip from his grasp, and despite being pushed to deuce (40-40) on his serve, he quickly won the next two points to wrap up the match, which lasted all of four hours and 54 minutes, to add a fourth US Open title to his collection.
It was fitting reward for Nadal who has been the most consistent player on tour at the majors this year, being the only player to advance to the semi-finals of all four majors and appearing at three finals. His record this year stands at a loss to Novak Djokovic at the Australian Open final and a semi-final loss to Roger Federer at Wimbledon along with victory at the French Open and now the US Open, which should solidify his position at number two in the men's ranking.
He now sits one adrift of Federer, who has 20 career major titles but three ahead of the top ranked Djokovic who has 16.